Law firm marks eighth consecutive year of growth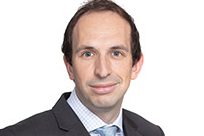 Bevan Brittan's Leeds office head says the national law firm's latest results demonstrate the business has dealt well with the pandemic and also reflect the strength of the firm's ongoing strategic planning.
James Atkins was speaking as the firm published its figures for the financial year 2020/21, in which it recorded a 9.1% increase in revenue to £56.1m (2019/20: £51.4m) – its eight consecutive year of growth.
Net profit rose by 29.5% to £14.7m (2019/20: £11.35m).
Atkins added that growth had been seen across the business, within its emerging market areas such as energy, financial services, higher education and construction, as well as its established markets – local and central government, health and social care, and housing.
This performance comes against the backdrop of massive upheaval for the legal sector, in which prior investment in the firm's IT systems enabled it to switch quickly to agile working for all its colleagues without any impact on clients.
In August 2020 Bevan Brittan was one of the first law firms to announce full repayment of furlough monies received from Government.
Atkins said: "The strong partnership between our clients and colleagues over the past 12 months has been instrumental in our ability to successfully navigate the most challenging period any of us can ever remember.
"I cannot thank all our Leeds office colleagues enough for their help and support during a pandemic period that was unanticipated and which has tested us all personally and professionally.
"Against that backdrop, I am extraordinarily proud of what our Leeds teams have delivered for our clients.
"We are a strong and growing business thanks to the breadth of our client base and the way everyone has pulled together as one team in the past 12 months.
"Our performance also shows the strength of the strategy we have put in place for Bevan Brittan.
"Growth across all sectors is a reflection of our existing reputation in established markets and the growing profile we have in a number of emerging markets."