Huge manufacturing jobs boost for the Humber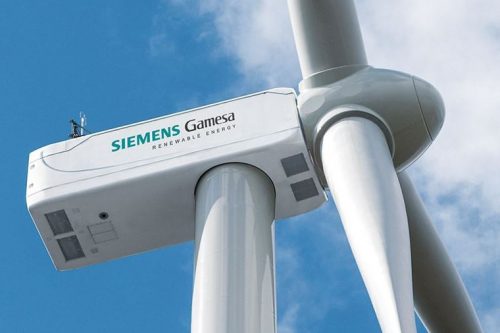 X

Register for free to receive latest news stories direct to your inbox
Register
The Humber's green manufacturing sector has got the wind at its back after £266m of investment was agreed to develop the next generation wind turbines.
The Government, Siemens Gamesa, and GRI Renewable Industries have revealed significant commitments which will create and protect 1,340 jobs.
The region is key to the UK's ambitions to be a world leader in offshore wind manufacturing.
Prime Minister Boris Johnson said: "The Humber region embodies the UK's green industrial revolution, with new investment into developing the next generation of wind turbines set to create new jobs, export opportunities and clean power across the country."
The UK is hosting the global climate change conference, COP26, this November which is increasing the focus on the UK's ambitions and investments in renewable energy.
The Government is to provide grant funding to support Siemens Gamesa and GRI Renewable Industries' plans to further develop manufacturing facilities in the Humber region.
The money will come from its Offshore Wind Manufacturing Investment Support scheme. The amount of grant funding will be revealed once due diligence has been completed and agreements finalised.
Both companies will be supplying essential components to offshore wind farms providing clean power across the UK as well as for export around the world.
Siemens Gamesa will invest £186m to expand its blade manufacturing site located near Hull, creating and safeguarding up to 1,080 jobs.
The investment will enable it to manufacture the next generation of offshore wind turbines and blades greater than 100 metres.
Marc Becker, chief executive of the Siemens Gamesa Offshore Business Unit, said: "Since our offshore blade factory opened in Hull in 2016, Siemens Gamesa has proudly served as the catalyst for the powerful growth the area has seen. The rapid development of the offshore wind industry – and continued, strong, long-term support provided by the UK government for offshore wind – has enabled us to power ahead with confidence when making these plans."
Separately, GRI Renewable Industries is investing £78m in an offshore wind turbine tower factory at Able Marine Energy Park in Hull, creating up to 260 jobs.
GRI's chairman and chief executive Jon Riberas said: "We are proud to participate in this major project to power British homes and communities with wind energy towards sustainability and carbon neutrality. This project will create a worldwide leader in the offshore sector in a market that is increasingly demanding and constantly evolving."
Today's announcement is the catalyst for Siemens Gamesa to move forward with its plans to double the size of its plant at Hull's Alexandra Dock.
It said construction will begin within weeks and is scheduled to be completed in 2023. The expansion will add 200 jobs to the 1000-strong workforce at the site.
Clark MacFarlane, UK managing director of Siemens Gamesa, added: "Our investment in our existing offshore blade factory, logistics, and harbour facilities in Hull has been a key driver of the growth of the UK's world-leading offshore wind industry.
"We are proud to commit our long-term future in Hull and the Humber, providing safe, clean-energy workplaces which also contribute to the decarbonisation of the UK's energy supply."