'Empathy and integrity are my two key phrases'


Andrew Mackenzie is a qualified insolvency practitioner, a fellow of the Association of Chartered Certified Accountants and has a degree in accountancy and finance. He has a broad range of experience in corporate rescue and recovery, restructuring, personal insolvency, business investigations, review work and funding solutions.
Having previously worked for PwC, Baker Tilly and BDO Stoy Hayward, Mackenzie joined the Leeds office of Begbies Traynor in January 2006, before opening a Hull office for the firm in May 2008, More recently he has opened Begbies Traynor's offices in Scunthorpe and Grimsby.
---
The thing I enjoy most about my work is the variety. No two days are the same as every business and individual we deal with is unique, bringing new challenges and the ongoing opportunity to develop different skills as we find ways of supporting them.
In the current situation, with the Government's Covid assistance gradually being withdrawn, a boutique advisory practice such as ours comes into its own in terms of finding bespoke solutions to help businesses and individuals. As a group, we offer multiple disciplines for all situations in a business' economic life, with a wide range of services from corporate and personal insolvency to corporate finance and financial advisory, and moving forward that breadth allows for custom solutions for businesses.
Businesses are currently facing a perfect storm as Covid-19 support is wound down and they start to repay bounce back loans, coupled with the cost and logistics impact of Brexit. We are seeing labour and supply chain issues creating major problems in many sectors and this in turn will lead to inflation, putting pressure on cash flow – as a result, our advisory practices will inevitably becoming busier in the coming months.
Legislative change occurs regularly in the restructuring world, but some of the biggest changes have been the digitalisation of stakeholder communications or office holders' working practices. However we've seen the changes under SIP 16 and, more recently, the CIGA 2020 and the return of Crown Preference for HMRC. But looking ahead there is also a huge and growing number of non-clearing bank lenders, which are changing that funding model.
Empathy and integrity are my two key phrases. They resonate because ultimately dealing with extremely sensitive and emotive situations requires both.
I still really appreciate colleagues who gave me my break in 1996 at the then Coopers & Lybrand, now PWC. But individuals who deal with adversity and do not shy away continue to inspire me in all walks of life, including in business.
Outside the office I can normally be found spending time with family and friends, holidaying in Mallorca, walking the dog, playing golf with my son, watching rugby, or getting my hands dirty with the garden.
---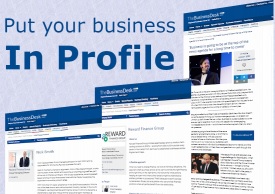 Appear in your own In Profile feature by signing up for a Business Profile on TheBusinessDesk.com.
The company and individual profiles on TheBusinessDesk.com are designed to help our clients build corporate and individual awareness within the regional business community and benefit from TheBusinessDesk's traffic and visibility in the business community and the search engines.