New chair of scandal hit cricket club wants 'urgent and seismic change'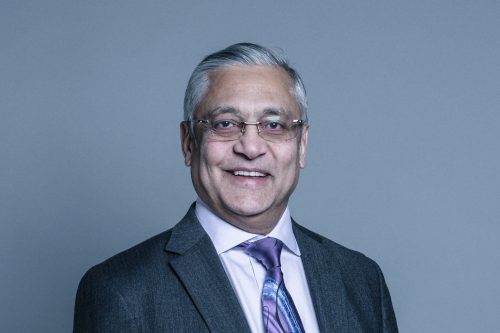 Yorkshire County Cricket Club badly handled allegations of racist treatment made by ex-player Azeem Rafiq but is now ready to learn from its mistakes, according to its new chairman Lord Patel.
Speaking during a packed press conference at Headingley Stadium earlier today – 8 November – Lord Patel confirmed the employment tribunal case between Rafiq and the club has now been settled with an undisclosed amount of compensation offered to the former player.
He emphasised the settlement has placed no restrictions on what Rafiq can say about his experiences at the club, stating the club had previously been wrong to ask Rafiq to sign a Non Disclosure Agreement.
Responding today, Rafiq called on club chief executive Mark Arthur and director of cricket Martyn Moxon to quit.
Rafiq said: "They have consistently failed to take responsibility for what happened on their watch and must go. I urge them to do the right thing and resign to make way for those who will do what is needed for the club's future."
An independent report found former player Rafiq was a victim of "racial harassment and bullying" at Yorkshire but the club said it would not discipline anyone.
The race scandal has rocked the 158-year-old club and has led to the resignation of senior figures at Yorkshire, the club being suspended from hosting international matches and a host of sponsors ending their deals.
Patel, a former England and Wales Cricket Board (ECB) member, was appointed chairman last Friday after the resignation of Roger Hutton.
Patel said he has asked for an independent whistle blowing hotline to be set up, to help anyone else who has suffered discrimination or bullying at the club to share their experiences.
He has also commissioned a review of processes and procedures on diversity and inclusion at Yorkshire.
And he said he has shared a full, unredacted version of the independent report into Rafiq's allegations with relevant parties who have a "legal interest" in the case, including Rafiq's legal team, the ECB and the Equality and Human Rights Commission.
Patel said he was disturbed to learn over the weekend that some current club staff have been harassed and have even faced death threats.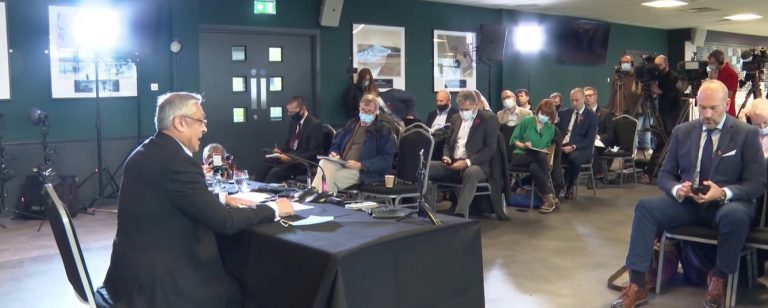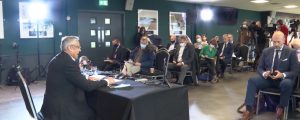 He said he condemned this behaviour and would be speaking about it to the police's chief constable for West Yorkshire.
"I've been appointed with a clear remit to right the wrongs of the past and to make sure this club is an inclusive home for aspiring players of the future," Patel said.
"Racism or any form of discrimination is not banter. It's simply not acceptable.
"I thank Azeem Rafiq for his bravery in speaking out. He's a whistle blower and should be praised as such.
"He should never have been put through this and I would like to apologise to him. What happened to him must never happen again to anyone.
"We have handled this issue badly and the investigation into it was flawed. We need to learn from mistakes and ensure we do better."
Patel said part of his new role will involve looking into whether there is institutional racism at the club but warned this was a complex matter that would not be easy to resolve.
"There's a clear need for an urgent and seismic change starting from within the club and I'm determined to lead the club to a better and more positive future," he said.
"Yorkshire is my home and and I want to make Yorkshire County Cricket Club a place for everyone from all backgrounds.
"This club should be the pinnacle of English cricket and as a proud Yorkshireman myself it pains me to see it in this condition."
He said he wanted to make the club a zero tolerance environment for any form of discrimination, but noted this could not happen overnight.
He stressed he had only been in the chairman's post for 72 hours and asked for patience.
"I'm acutely aware of the need for actions not just words," he said. "But I do ask for time to listen and learn, to create a change that has impact, that is long lasting and is authentic.
"And I urge others to come forward to share their experiences. We're ready to listen, we're ready to believe and we're ready to change.
"I want to speak to every player personally, including those away on international duty when the time is right.
"I want to do this diligently and not rush it, but I know the longer this goes on the more damage it does to all of us."
Patel said following the withdrawal of key club sponsors and the news that Headingley would not be hosting international matches, he was sure the club's finances were "under strain."
"That's why I'll be going hell for leather to get those sponsors back and to get international cricket back here." he said. "I don't want to even think about the club becoming insolvent."