Major regional airline strikes deal with hybrid aircraft producer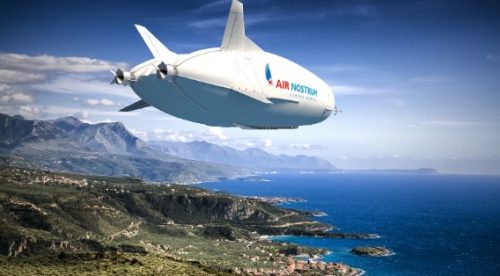 Aircraft manufacturer Hybrid Air Vehicles (HAV) has signed an aircraft reservation agreement with one of the largest regional airlines in Europe.
The deal with Air Nostrum Group is for HAV's pioneering hybrid aircraft – Airlander 10.
Air Nostrum Group has reserved ten 100-seat Airlander 10 aircraft for delivery from 2026 onwards, with a view to begin operations as launch airline.
While the Air Nostrum Airlander 10 fleet is set for initial operations across Spain, HAV plans to launch production of the aircraft in South Yorkshire, this year, creating thousands of skilled jobs in green aerospace technologies.
HAV is in advanced discussions with the South Yorkshire Mayoral Combined Authority (SYMCA), Doncaster Council and other local and national stakeholders on plans to manufacture Airlander 10s within a new green aerospace manufacturing cluster in South Yorkshire.
The company says Airlander 10 will be the world's first large scale aircraft to achieve zero-emissions flight.
Government Business Secretary, Kwasi Kwarteng, said: "Hybrid aircraft could play an important role as we transition to cleaner forms of aviation, and it is wonderful to see the UK right at the forefront of the technology's development.
"This agreement enhances the possibility of the revolutionary, British-made and designed, Airlander 10 aircraft flying across Spanish skies.
"It is more proof of how the UK's businesses are embracing new technology to drive growth and support high skilled UK jobs.
Tom Grundy, CEO of HAV, said: "Airlander is designed to deliver a better future for sustainable aviation services, enable new transport networks and provide rapid growth options for our customers.
"Our partnership with Air Nostrum Group, as the launch airline for Airlander 10, leads the way towards that future.
"As countries like France, Denmark, Norway, Spain and the UK begin to put in place ambitious mandates for the decarbonisation of domestic and short haul flight, Hybrid Air Vehicles and Air Nostrum Group are demonstrating how we can get there – and get there soon."
Carlos Bertomeu, president of Air Nostrum, added: "We are exploring each and every possible way to reduce our carbon footprint.
"This is something we have been doing for many years. The Airlander 10 will drastically reduce emissions and for that reason we have made this agreement with HAV.
"Sustainability, which is good news for everyone, is already a non-negotiable fact in the daily operations of commercial aviation."
\
'); } } }); googletag.enableServices(); }); googletag.cmd.push(function() { googletag.display('div-gpt-ad-1455904060045-0'); }); googletag.cmd.push(function() { googletag.display('div-gpt-ad-1455904060045-1'); }); googletag.cmd.push(function() { googletag.display('div-gpt-ad-1455904060045-2'); }); googletag.cmd.push(function() { googletag.display('div-gpt-ad-1455904060045-3'); }); googletag.cmd.push(function() { googletag.display('div-gpt-ad-1455904060045-4'); }); googletag.cmd.push(function() { googletag.display('div-gpt-ad-1455904060045-5'); }); googletag.cmd.push(function() { googletag.display('div-gpt-ad-1455904060045-6'); }); googletag.cmd.push(function() { googletag.display('div-gpt-ad-1455904060045-7'); }); googletag.cmd.push(function() { googletag.display('div-gpt-ad-1455904060045-8'); }); })