The Value of Placemaking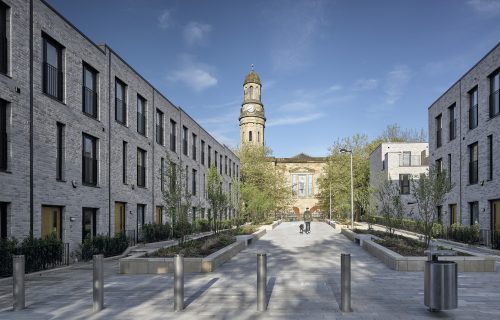 Andy Avery, Director at Buttress, and Leeds Studio Lead, James Lewis, discuss the importance of placemaking in creating sustainable, urban homes and environments.
"In a society becoming steadily more privatised with private homes, cars, computers, offices, shopping centres, the public component of our lives is disappearing. It is more and more important to make the cities inviting, so we can meet our fellow citizens face-to-face and experience directly through our senses. Public life in good quality public spaces is an important part of a democratic life and a full life." Jan Gehl
It's no secret that, as a nation, we need more homes. Across the North, the trend towards city living and the rapid population growth of the nation's cities has put increased pressure on housing availability, leaving people across all demographics unable to find suitable, long-term accommodation.
However, meeting the UK's housing requirements and creating sustainable and successful homes requires much more than simply bricks and mortar. We need to embed placemaking principles into the development strategies. In doing so, we can produce places that go beyond function, that are desirable, welcoming and that facilitate long-term and sustainable community creation.
As a practice, we endeavour to make our buildings connect to and enhance the community within which they sit. By strengthening the connection between people and places, we can shape our public realm to maximise shared value.
In our residential work, we create places that are accessible and well connected to the wider neighbourhood. Where appropriate, we create new routes that respond to existing buildings and features to establish relationships between new and existing. We will also seek to find ways of using the area's existing and surrounding context to create links and views that positively integrate the new with the existing.
Creating spaces for social interaction is another key element in successful community creation. We aim to embed public spaces into developments and create areas that promote activity and neighbourly social interaction. Where possible, key routes are either pedestrianised or 'traffic calmed' to prioritise pedestrians and cyclists. This also liberates the streets/places so that they can easily support other activities, such as street parties/communal barbeques etc. By adopting this approach, residents are given the ability to 'own' the place with 'eyes on the street' which, in turn, promotes feelings of safety and comfort.
The aesthetic quality of buildings is also a powerful tool in the development of successful places. We prioritise the use of high-quality materials that both enrich the context and give the scheme a collective identity, supporting the feeling of having arrived in a 'place'. A range of distinct house types are also provided so that every resident has a strong sense of individual ownership.
Creating sustainable places, however, means more than simply providing homes. We need to adopt a wider, people-centred perspective that asks what the community needs to thrive long-term. In our schemes, we look to make provision for retail outlets, food and beverage offers and public services that serve the community and promote fuller activity throughout the day. By considering how individual buildings work collectively as a cohesive whole, together with social and cultural infrastructure, we can create greater value for the community. This can reap dividends that ultimately promote people's health, happiness, and wellbeing.
Over the past few years, Buttress has been working across a series of developments in the same urban fringe location. Working across this area has allowed us to design (in consultation with our client, the English Cities Fund) for different tenures including, outright ownership, shared ownership, market rent and social rent to include accessible dwellings. The developments we have worked on include, Timekeepers Square and Valette Square, two developments of private townhouses; Atelier, an apartment and townhouse scheme with a commercial offering, and Greenhaus, a development of 96 affordable apartments currently on site and being built to Passivhaus standards. Together, they offer a diverse mix of tenures that have added variety to the area, bringing together a community of young and old, families, couples, and individuals – all factors that support sustainable, vital, and active places.
Find out more about Buttress' placemaking and residential work here.