Sir Roger Marsh joins global law firm as strategy advisor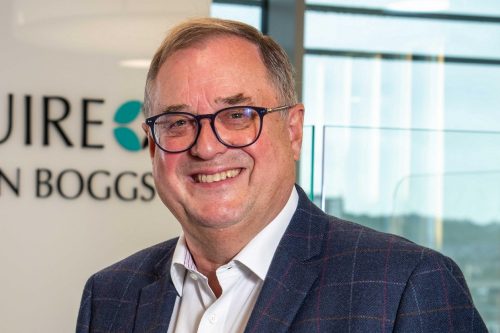 Squire Patton Boggs has made an eye-catching appointment with the recruitment of NP11 chair Sir Roger Marsh as a senior business and strategy advisor.
Sir Roger, who recently stepped down after nine years as chair of Leeds City Region Enterprise Partnership, is a hugely well-connected figure in business and politics across the North.
He spent 25 years as a partner at PwC, the last two as office senior partner. He was also on secondment in the Cabinet Office from 2007-09 as the director-general of strategic finance and operations.
Sir Roger told TheBusinessDesk.com that the role "is about not only shaping the narrative, but also how to enhance the delivery".
He said: "I'm excited at being back involved in professional services, but also excited about what I might further do to support Squire Patton Boggs – a global law firm that has a big piece of its origins in our region – to further that northern agenda. At the same time, to help and support their client base seize the opportunities."
Sir Roger, who knighted in 2021 for services to business, economy, and the community across the North, is looking forward to working with businesses navigate a course through the economic challenges ahead.
"There's a whole multiplicity of circumstances which themselves should actually provide opportunity, not just difficulty – and it's about getting beyond difficulty to those opportunities," he said.
The three-days-a-month role will see Sir Roger working with clients across the North to provide assistance and strategic advice around fast growth and key sectors including technology, fintech and healthtech.
John Alderton, office managing partner in Leeds, said: "The primary focus is on the external side, of the clients and looking at the investment opportunities that Roger taps into, that helps us to connect our clients into.
"He's going to bring a fresh approach – he's going to look at the way we do things, internally as well as externally. Sir Roger feels that he can help some of our really talented lawyers, who are coming through to partnership and some of our junior partners, to think about the way they need to approach clients, deal with clients, and build their careers."
Alderton said the UK firm will shortly be reporting record results for last year, while its Northern offices of Leeds and Manchester have continued a "fantastic performance" since April.
"In the last three to five years, we've gone from strength to strength," he said. "We've increased the turnover in each of the offices in Leeds and Manchester. We've increased the quality of work we're winning and doing, and we've stretched the breadth of that work.
"Can we realistically expect another two years of those sorts of conditions? We know we can't – we know the serious headwinds and we're not naive to that. Having somebody like Sir Roger on board will help us, and our clients, be more resilient to those conditions."
Sir Roger's appointment comes weeks after influential Northern MP Jake Berry stood aside from his consultancy work with the law firm following his appointment to the Cabinet position of Conservative Party chairman.