Hull group presented with Queen's Award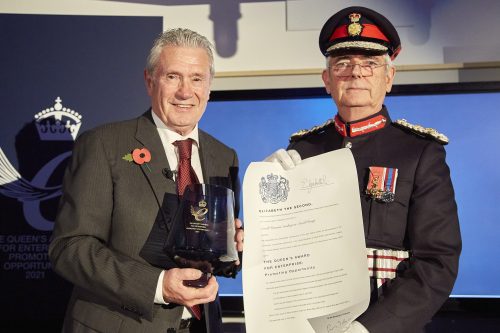 Hull-based Sewell Group was formally presented with its Queen's Award for Enterprise by East Yorkshire Lord Lieutenant Jim Dick OBE last week.
A company delegation then travelled to London for the 100 Best Companies to Work For Awards. Sewell was listed in 45th place in its sixth appearance in the list.
Sewell won its Queen's Award in 2021, one of 18 firms to be successful in the Promising Opportunity category.
HM The Lord Lieutenant, Jim Dick OBE, said, "This is one of those moments when we give an award to a company which absolutely deserves it. I know from working with Sewell Group in other ways that promoting opportunity is in your DNA."
Sewell, which dates its foundation to 1876, became a plc in 1990. It currently employs more than 500 people and has offices in Hull and Elland. Its businesses include forecourt operation, facilities management, construction and commercial property investment.
Dr Paul Sewell OBE, chair of the business which he joined in 1978, said:  "These are the sort of milestones which make you realise how far you have come.
"We had never won a Queen's Award before and although we've been very successful in the Sunday Times Top 100 over the last 14 years we are now in the large company tier. We've grown the business in terms of adding new disciplines and geographically and this tells us we are going in the right direction.
"We had a lovely morning and a great night but then you wake up and it's the next morning and you have to reset and go again. We don't rest on our laurels."
He added: "It sets the bar and we are now judged by that bar, as a Queen's Award holder.
"We are united behind the principle that talent is spread equally within our community but opportunity isn't and we have a great team here because they come from very different backgrounds.
"Just because you have had a disadvantaged start in life it doesn't mean you can't get to the top and if you are given the opportunity your duty is to pass that opportunity on to others. It's not a do-good thing, it's a business strategy and when you see the people you know it's the right strategy."