Government abandons plans to privatise Channel 4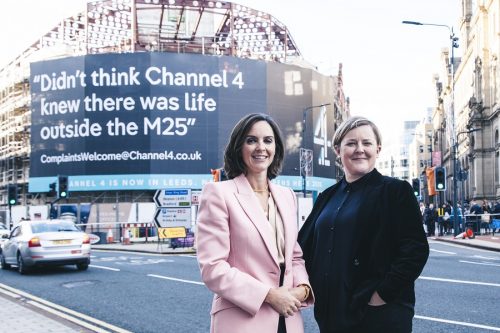 Culture Secretary Michelle Donelan has abandoned her predecessor Nadine Dorries' plans to privatise Channel 4.
In a letter to the chair of the Domestic and Economic Affairs committee, Donelan said selling the Leeds-based TV channel was "not the right decision" at this point, and "there are better ways to secure C4C's sustainability and that of the UK independent production sector."
The letter, obtained by the News Agents podcast and posted to Twitter by reporter Lewis Goodall, outlines a four-point plan to ensure Channel 4's future:
Imposing a statutory duty on Channel 4's board to focus on long-term sustainability.
New governance structures to assure the government of the channel's sustainability.
Giving Channel 4 more commercial flexibility.
Channel 4 increasing investment in skills, nations and regions.
Donelan wrote, "C4C's role in supporting growth in our independent production sector, a sector which is currently worth around £3 billion to our economy, would be very disrupted by a sale at a time when growth and economic stability are out priorities."
She added, "Overall, my intention is to be clear with C4C that we expect them to achieve greater sustainability – for which the Government will give them more tools – whilst optimising the support and growth they provide to the creative sector and the regions."
In a statement on Thursday morning, Channel 4 said the decision provides a firm basis on which to establish the sustainable direction of Channel 4 in the hands of the British people.
Alex Mahon, chief executive of Channel 4, said, "The principle of public ownership for Channel 4 is now set for the foreseeable future, a decision which allows us to be even more of a power in the digital world.
"Channel 4 is innovative, editorially brilliant and loved by audiences that others don't reach, most of all the young and underrepresented. In the analogue world, we did this spectacularly. Now, in the digital era, we are doing it again. Working with the world-leading TV and film producers of the UK, we continue to give birth to ideas that thrill audiences and change perspectives globally.
"Five years ago, we committed to representing the whole of the UK on screen and to growing our impact across the Nations and Regions. Most recently, we took on the job of removing obstacles for young people who thought a career in this industry was somehow not for them.
"I am personally delighted that we will be able to do more, making positive change for the people that others don't fight for. We will move faster, invest more, take more risks, break down barriers and push boundaries; getting up to do that every day is an utter privilege for those of us lucky enough to work at Channel 4."
Tracy Brabin, Mayor of West Yorkshire, welcomed the news, saying, "Finally, we have a Culture Secretary who has listened to those of us who have long argued that the privatisation of Channel 4 made no sense.
"Not only did it risk losing the channel's commitment to diversity and inclusion, but also the vast economic benefits it brings to places like West Yorkshire at a time when the UK economy is crying out for growth and stability.
"If the Government are truly behind levelling up, they should be supporting our creative sectors to be the driving force.
"I hope ministers can now draw a line under this saga and concentrate on solving the real problems our country is facing."
Updated with Channel 4 statement 11.42am, 5/1/2022.