New chief executive for Nottingham regeneration company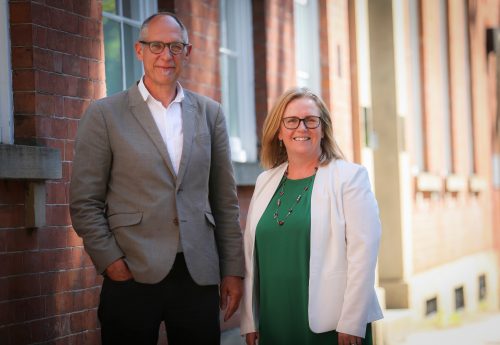 Nick Ebbs, the chief executive of regeneration company Blueprint has announced that he is stepping down as chief executive after 15 years in the role.
Sam Veal, who joined the company last summer as deputy chief executive steps up.
Ebbs will remain as vice chairman of Igloo Regeneration, the national development company which manages the Blueprint business, working in an advisory role. The two will continue to collaborate on key projects.
Veal has more than 30 years' experience in construction, development and public private partnerships. Prior to joining Blueprint, she was chief executive of Uliving, Linkcity's dedicated student accommodation offering.
Veal said: "Together with Igloo Regeneration, Blueprint has established an extraordinary reputation for innovative, low energy design based on genuine sustainable practices. The commitment to people, place and planet underpins our vision for the future and is at the heart of the rationale guiding the delivery of our project pipeline.
"I'm excited about the year ahead and seeing Blueprint developments continue to buck the mainstream trends. The different design approaches and open relationship established with our communities and partners to share new practice and reimagine their neighbourhoods strikes a chord with customers.
"My focus is to continue to share the Igloo approach and Blueprint credentials with partners and customers, delivering a number of exciting projects including our extensive Waterside Regeneration Project at Trent Basin in Nottingham and to expand our offer into the wider Midlands region."
Ebbs, who is also currently High Sheriff of Nottinghamshire, says he plans to focus on areas of research that the wider business has interest in pursuing, including community energy and new housing delivery models.
He will also continue his involvement in several Nottingham-based institutions. He is a governor of Nottingham Trent University, honorary professor at the University of Nottingham, a trustee of Nottingham Contemporary and an ambassador for Framework, the Nottingham based charity that provides services to the homeless – a charity he supports as High Sheriff.
Ebbs said: "I have known Sam for nearly ten years. She brings a wealth of experience to the new role and her values and interests are fully aligned with those of Blueprint. She is an extremely good choice as my replacement."
Established in 2005, Blueprint has been responsible for several high-profile developments across the East Midlands, including Green Street in the Meadows, a sustainable housing project, Nottingham Science Park and Phoenix Square Leicester. The multi-phase Trent Basin project at Nottingham Waterside is its largest current scheme with plans for up to 500 homes in a new residential neighbourhood.