Russell Homes completes £14m joint venture with Halton Housing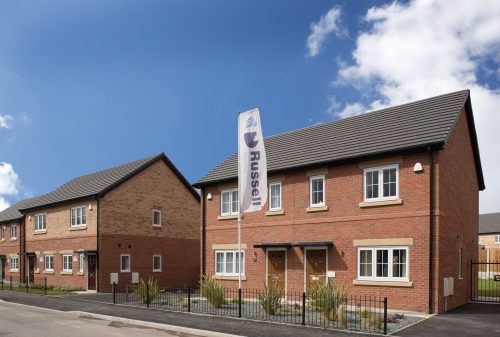 Trafford Park-based Russell Homes has completed construction of 185 new homes in Widnes, part of a £14m joint venture project with Halton Housing, and has embarked on a second, similar deal.
The mixed-tenure scheme at Tan House Lane saw the housing association take ownership of 133 properties for rent and shared ownership, while Russell Homes retained 42 for open market sale.
The development has been hailed for providing a catalyst for the regeneration of a formerly industrial part of Halton Borough.
The scheme involved transforming a former logistics site into a residential development with a mixture of one- to four-bedroom houses and apartments, set around an area of public open space and a children's park.
Properties were handed over as they completed over the past two-and-a-half years, and most are currently tenanted, acquired or under offer.
All 42 of the Russell Homes properties, known as Bower Brook Gardens, sold within 10 months of the sales launch in February 2016, of which 79% went to first time buyers, and 88% to people from within five miles of the site.
A second £14m joint venture between Russell Homes and Halton Housing has also just kicked off, with remediation of a 7.2 acre site opposite the original having now begun.
The first of the 118 homes at the Warrington Road site are due to be available by May 2019.
These will include 69 properties for shared ownership, rent-to-buy, private rent or open market sale with Halton's commercial brand Open Door.
Russell Homes will retain 49 for open market sale, to be called Bower Brook Gardens 2.
Together, these developments represent Halton Housing's biggest investment in new build homes.
Nicky Harris, Halton Housing's development manager, said: "The completion of the first Tan House Lane development is a major landmark for Halton Housing as it is our largest single new build scheme to date and contributes significantly to increasing our portfolio to meet high demand for homes in this area.
"The development has transformed this part of Halton completely, from a mostly-vacant old industrial area to a thriving residential community.
"This process is set to continue with a second large development across the road, which we're delighted to be working with Russell Homes to deliver once again."
Russell Homes provides a full turnkey service for the housing association, commissioning architect and planner MPSL for the design, and acquiring the site.
Daniel Kershaw, director of Russell Homes, said: "We wanted to ensure quality throughout the design and build of this development, and that there would be no discernible difference between the private and social housing.
"The first development looks great and has been very popular with local people, as the speed of sales and tenancy requests attest.
"I think it's clear there is a demand for good quality family homes in this area and thanks to the combined investment of Russell Homes and Halton Housing, we have helped deliver that."
He added: "This JV has proved a successful model for delivering mixed tenure properties and we are pleased to continue this with our second development in the Tan House Lane area, with the new scheme having now commenced on Warrington Road.
"We are also using a similar model to deliver a mixed tenure of new homes with Onward Housing Association in the centre of Heywood, and are in talks with a number of other housing associations over similar schemes around the North West."