Ground broken on 120-home development in Skelmersdale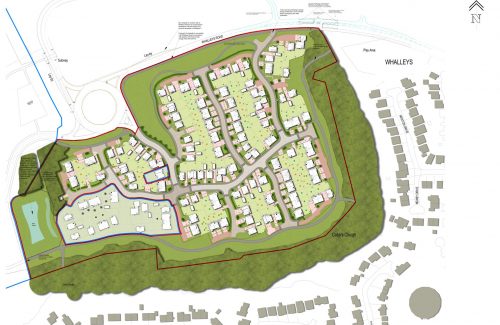 Laurus Homes and Seddon Construction have started on site at Whalleys South, Skelmersdale.
The first phase of the project will see 120 homes delivered on land released by Homes England.
The development, a mix of two-, three- and four-bedroom homes, is a multi-tenure scheme with 64 homes available for open market sale, 32 for shared ownership and 24 offered through affordable rent.
Laurus Homes, a partnership between Trafford Housing Trust and L&Q Developments, expects the first homes in the opening phase of the project to be on the market in April 2020, with the scheme completing in November 2021.
The second and third phase, totalling an additional 179 homes, will follow, subject to planning.
The land was released by Homes England following a competitive tender.
"Considerable effort was put into the tender to ensure this strategic land drives regeneration, provides excellent homes, and helps people get a foot on the housing ladder – and now the hard work begins," said Graeme Scott, development director at Trafford Housing Trust.
"Whalleys South is a key project in our development plan which will see 20,000 new homes built over the next 10 years by THT and our partner L&Q.
"Like the rest of the North West, Skelmersdale urgently needs great quality housing and we are determined to do our bit to ease, and hopefully eradicate, the housing crisis while helping communities thrive and councils achieve their economic success."
As with all Laurus Homes' developments, Whalleys South makes no distinction between houses earmarked for shared ownership or social rent and those available for open market sale.
Michael Orgill, land and partnerships director at Seddon, said: "The high quality of design demanded by Laurus Homes matches our dedication to superior standards. This was evident in our partnership bid, and we are determined to deliver the very best homes for local people.
"We have worked closely with THT on other projects and built a strong partnership with the team. Together with L&Q, THT has an ambitious development plan and we will do our part to help them achieve their goals."