1,000 new homes to be built in North Manchester following major land deal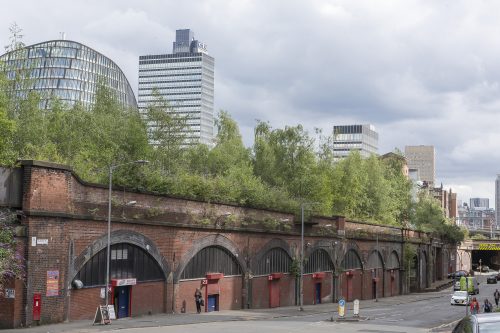 Far East Consortium International (FEC) has moved forward with plans to deliver up to 15,000 homes across North Manchester following a strategic land acquisition.
The group has acquired 20 acres of land from Network Rail, for an undisclosed sum, which will allow the group to move ahead with stage one of the Northern Gateway which involves building 15,000 homes over the next 20 years, in partnership with Manchester City Council.
Located North East of Victoria rail and Metrolink station, the 20 acres feature former railway sidings and the former Red Bank viaduct connection into Victoria, including 17 commercial arches and warehouse units that are home to several entrepreneurial businesses.
The land acquired will be used to provide more than 1,000 homes including the first elements of a River City Park at St Catherine's Wood, ultimately linking Angel Meadow to the north of Manchester.
As part of the transition into project delivery, Hilary Brett has been promoted to project director at FEC with specific responsibilities for the delivery of the first phase of Northern Gateway and also the provision of 80 new homes at Addington Street, New Cross, Manchester.
Hilary joined FEC as development manager in 2017 from planning consultancy HOW Planning where she led the environmental planning team and previously worked at The Environment Partnership.
She has more than a decade of experience in the delivery and project management of large-scale planning applications, environment impact assessments and masterplans.
Joining Hilary at the FEC project office at Northern Assurance Building, Princess Street, Manchester are 10 new colleagues, taking the team to a total of 19.
The Network Rail deal follows the approval by the city council of the Strategic Regeneration Framework for the Northern Gateway in February 2019 and represents FEC's fourth off-market land transaction in and around the Red Bank area.
Tom Fenton, of FEC said: "This is a significant acquisition for the company and for the Northern Gateway joint venture.
"It enables FEC to deliver the next key phase of this major new residential destination and the beginning of the transformation this forgotten part of the city into a successful, fully functioning place.
"We will work towards retaining and enhancing the Red Bank viaduct, encouraging the independent and entrepreneurial tenants to remain in the arches and to flourish as the area evolves."
Cllr Suzanne Richards, Manchester City Council's executive member for housing and regeneration, said: "The Northern Gateway is a hugely ambitious project stretching over 15 years and more.
"It's fantastic to see the idea become a reality as these plots of land are acquired for the first phase of development, creating thousands of new homes for Manchester people."