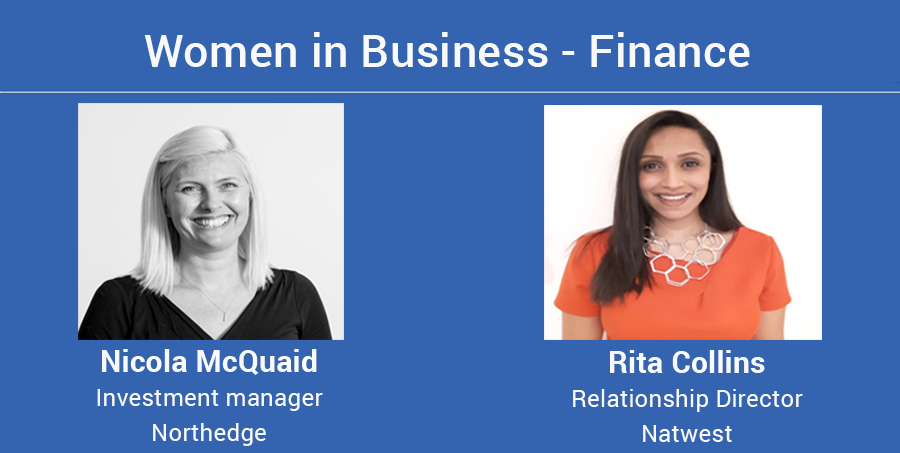 Tuesday
30 April

12pm – 3pm
£45.00 +VAT
includes a welcome drink and two-course lunch
Bibis Italianissimo
Criterion Place
Sovereign Street,
Leeds
LS1 4AG
Sponsorship:
There are several sponsor opportunities available for this event. Please contact:
Sales on 0113 394 4321 or
sales@thebusinessdesk.com
Two leading figures in the Yorkshire finance sector are to share their perspectives on the marketplace at present and reflect on how it has changed throughout their careers.
TheBusinessDesk.com's upcoming Women In Business event will see Investment Manager Nicola McQuaid of Northedge and Natwest Relationship Director Rita Collins share their insights.
Both have a vast amount of experience and knowledge of the financial sector across the region and have been at the forefront of major deals. They are regularly in touch with businesses of all sizes to help steer investment and financing for the growth of firms which bolster the Yorkshire economy.
Nicola joined NorthEdge in 2016 with over 10 years' experience in M&A.  She spent three years at JLA where she was part of a PE backed management team and led on acquisitions.
Prior to this, Nicola was an Assistant Director in PwC Corporate Finance and she has advised on a variety of deals, including buyouts, acquisitions and disposals across a range of sectors. She will discuss what she enjoyed about being involved in the variety of deals she has so far in career; as well as the opportunities and challenges in a role such as hers.
Rita's role sits within NatWest's Yorkshire Corporate team, focusing on business development with large companies across the Yorkshire region.  Her key aim is to understand the goals and future strategic plans of businesses and how she can help deliver these.
She joined the bank in 2006 and has most recently worked in the Large Corporate team managing a portfolio of complex businesses with turnover of £50m+ spanning across family owned, PE backed and plc entities.  Rita has also spent time working in the bank's Restructuring team where she assisted distressed owner/managed businesses and SMEs in the turnaround process.
Rita has been on various talent programmes and is one of the founding members of the NatWest #YorkshireWomen network.  She is passionate about driving her career whilst ensuring a work/life balance where possible and will talk about how she balances her time. Rita will also be able to provide insight on how the banking sector has changed and what she sees as the biggest topics in the sector at present.
The afternoon will be a chance to hear from inspiring leaders who are passionate about playing their part in ensuring businesses are supported to grow and develop. They are also committed to ensuring that more females are encouraged to join what can often be seen as a male dominated profession.
This lunch is open to all delegates and tickets are expected to sell fast, so early booking is recommended.