Newark manufacturer on course with Hinkley Point C project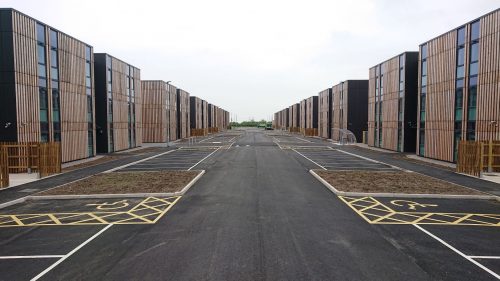 Caledonian, the Newark-based company which won the contract to deliver campus accommodation for workers building the first nuclear power station in the UK for a generation, has completed the construction of the first phase of a major campus development for Hinkley Point C workers.
The Bridgwater Campus is the larger of the two developments, with Caledonian providing twenty-nine accommodation blocks, each offering en-suite rooms for 34 workers. A further fifteen buildings will be located on the Hinkley Point C site providing direct access to the construction zone.
Nigel Cann, Hinkley Point C delivery director, said: "The campus construction supports our workforce mobilisation strategy and allows us to minimise any negative impact on the local rented and bed and breakfast sector, the campus arrangements will also allow us to optimise our workforce transportation plans. The quality of the campus reflects how we value the contribution and importance of our workforce. We currently have around 3,000 workers on the Hinkley Point C site and expect the first workers requiring accommodation to move in to the site campus over the summer."
Both campuses present the largest hotel-style development in Europe for 25 years, with 1,496 en-suite bedrooms across 44 individual buildings at the two locations.
Caledonian is manufacturing the modules in Newark over a 51 week period. The campus accommodation is delivered to site 96% complete, with all en-suite rooms fully fitted-out.