Accounting giant's profits flat despite continued revenue growth
Deloitte's profits were flat last year despite an eighth-consecutive year of revenue growth at the accounting giant.
Revenues rose to £3.58bn, up 6% in the year and 83% higher than in 2010.
The firm has changed how it reports its distributable profit figures, declaring them after tax for the first time, but like-for-like figures showed an 0.5% improvement on 2017. Equity partners shared £584m and received an average of £832,000,
David Sproul, senior partner and chief executive of Deloitte North West Europe, said: "This is a good result in a market facing slower economic growth and continued uncertainty."
The firm said the reduced profit was the result of investment, highlighting its spending on its "internal centre of excellence for robotic process automation and the artificial intelligence studio, as well as in training and development of our people and audit quality initiatives".
Revenues have increased 83% in eight years, but average profit per equity partner is yet to outperform 2010: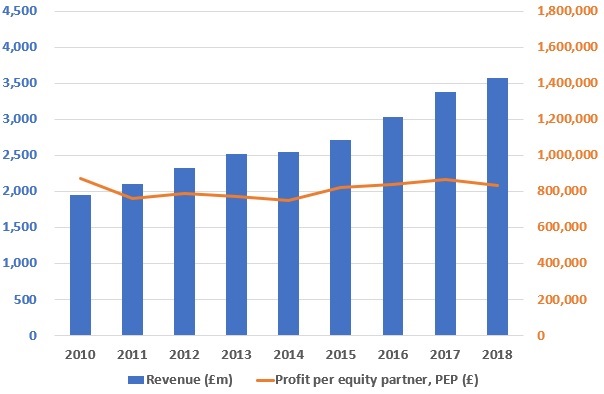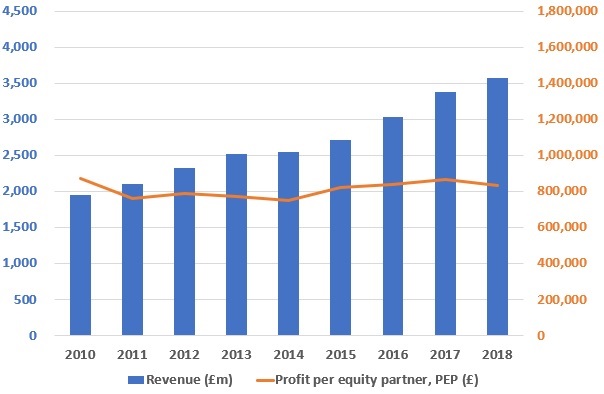 Deloitte is the first of the Big Four to reveal its results, which will come under close scrutiny following several high-profile fines this year for its competitors. Deloitte is currently being investigated for its audits of software firm Autonomy and building supplier SIG.
Audit and risk advisory services enjoyed a third-consecutive year of double-digit growth, breaking £1bn for the first time. The service line provides the largest revenue contribution, with 29%.
Sproul acknowledged concerns have been raised "over quality, conflicts of interest and a lack of choice" around audits.
He added: "These are serious concerns and we recognise the need for change. We must look at how the audits of the future match the evolving needs of stakeholders and society and address increasing business complexity.
"We have continued to invest in training and technology to help our 4,300 audit professionals deliver the highest quality audits and are proud to audit 27% of the FTSE 100."
Deloitte Midlands has matched the national performance by achieving year-on-year growth for the eighth consecutive year.
It recruited 140 people to its Birmingham and Nottingham offices, while promotions created six partners and 11 directors.
Pauline Biddle, practice senior partner for Deloitte in the Midlands, who heads all of Deloitte's regional practice senior partners outside of London, said: "Headcount is up and the Midlands has continued to perform strongly in a competitive market. Our focus on clients, people and society is reflective of the Midlands' overall performance both in Birmingham and Nottingham.
"The outlook for the Midlands is very positive. Birmingham announced as host for the 2022 Commonwealth Games, Coventry set to become the 2021 UK City of Culture and Birmingham still in the running to be the home of the new national headquarters for Channel 4 is fantastic news for the region."
This article was updated on August 28 after clarification that corporate taxes had been deducted in the computation of distributable profit and average profit per equity partner, and were not therefore directly comparable with previous years' figures.