Midlands 'retains title' as UK's capital of manufacturing
Manufacturers across the Midlands continue to be optimistic and outward-looking as they search for growth opportunities, despite the uncertainty that lies ahead, according to a new report by KPMG and TheBusinessDesk.com.
While Brexit continues to dominate the headlines, manufacturers remain positive about the opportunities that lie ahead. However they are concerned by some of the more timeless challenges, including skills and staffing.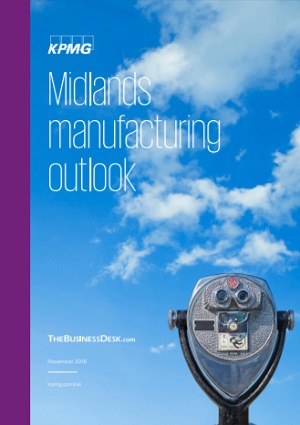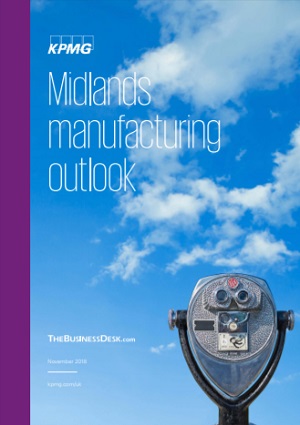 The new Midlands Manufacturing Outlook report is part of a joint project between KPMG and TheBusinessDesk.com, which included a survey, interviews, and round tables in Birmingham and Leicester. It assesses the strengths of the sector in the region and looks at how businesses are responding to major disruptions such as industry 4.0 and the changing international picture.
Nick Harrison, partner and head of manufacturing at KPMG in the Midlands, said: "The UK has a proud tradition of manufacturing excellence, and the Midlands has long been at the heart of it. In many ways, the Midlands remains the 'engine room' of our economy.
"The picture that emerges is of a sector moving with the times – as it has to. But plenty of challenges remain. If the region's manufacturing executives are resilient and resourceful, they also know that their businesses depend on securing the right skills.
"When asked what the number one thing keeping them awake at night is, the top response was not Brexit or macro-economics, and it wasn't costs or pricing or competition – it was the workforce.
Harrison believes "there are plenty of grounds for optimism" and that the region's historic reputation as a leading centre of manufacturing remains justified.
"Overall, executives believe the Midlands does a good job of attracting manufacturing investment and there is pride in the region's reputation as the capital of UK manufacturing," he said.
"A confidence for the future means that crown looks set to stay in place – but manufacturers will need, once again, to demonstrate their ability to adapt and change as we enter new and unfamiliar territory."
Click here to read the Midlands Manufacturing Outlook report.