Investment to deliver seafront transformation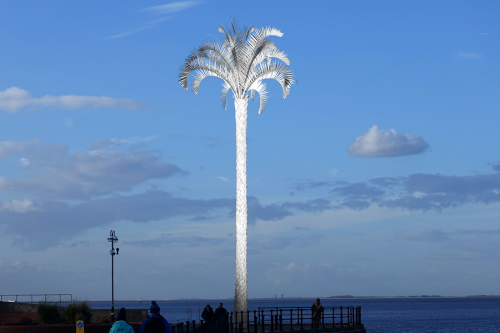 Bold plans for public art on Cleethorpes beachfront have been revealed as part of plans to boost the seaside economy.
It will deliver a sculpture larger in height than the Angel of the North, dynamic swirling illuminations, funky fitness street furniture, and the longest outdoor contemporary visual gallery in the UK.
The work is being supported by a grant from the Coastal Communities Fund to fund public art and public realm investments.
"Art can be controversial," said Cllr John Fenty from North East Lincolnshire Council.
"The objective of the overall project is to drive footfall along the North Prom which will have a positive impact on businesses and health and wellbeing.
The four new public art projects will be centred around Cleethorpes' stunning seascape and miles of golden sands, encouraging activity and events, relaxation and contemplation, all in equal measure."
The White Palm is a 22-metre white artificial palm tree with black paving that references its shadow at noon.
The Long Gallery project could transform the shutters of buildings to "create one of the longest contemporary visual art shows in the country", with 750sq metres of shutter space potentially available as canvases.
Innovative new street furniture, created by award winning design duo Freshwest, will be installed along the North Prom to provide an area for fitness or to just relax on while taking in the stunning views over the Humber.
The fourth piece of art will be "luminations", which will be two dynamic animated lines of festoon lights to be attached to the existing lampposts, with light effects giving the impression of movement.
The next phase is detailed design work for each of the elements, and in the case of the White Palm, application for planning permission which will go through the normal planning process.