Entrepreneur vows to change Leicester's textile industry reputation with new company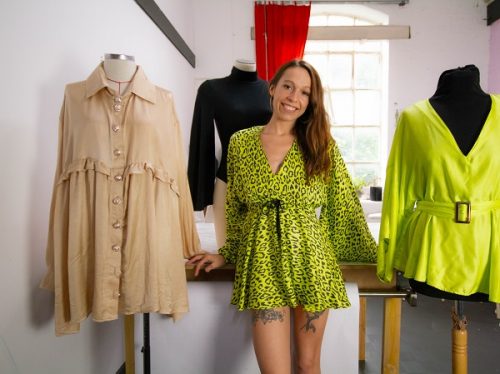 A fashion entrepreneur says she wants to help rebuild Leicester's reputation in the fashion world after launching a new clothing brand.
Fullalove Clothing has been set up by Leicester designer Millie Fullalove. She says the new company will disrupt the fashion world and prove great style doesn't have to cost the earth – literally.
Fullalove Clothing says it will champion premium quality sustainably sourced natural fabrics, and a move towards slower fashion choices.
With more than 60% of the clothing in the worldwide fashion industry made up of non-biodegradable fabrics, which often end up on landfill sites taking up to 200 years to decompose, Fullalove believes the time has never been more pertinent for the clothing industry to start making some important changes.
She said: "After spending years working in many fast-fashion factories, I've seen first-hand how damaging and toxic the fashion world is becoming. Second to oil, the clothing and textile industry is the largest polluter in the world.
"Now, more than ever, the need for a change in consumer attitude is so crucial and that's why I started researching ways I could be the change I wanted to see within the industry."
Leicester's textile industry has had a fraught and chequered relationship with the clothing world, making headlines earlier this year for its ties to fast-fashion, sweatshops and the reported exploitation of many factory employees.
However, Fullalove hopes to change all that and rebuild the city's reputation in the fashion world.
Her collections are made up of three different fabric choices: organic cotton which uses 90% less water than traditional cotton; organic bamboo which is naturally hypoallergenic for added comfort; and Tencel, a light and versatile fabric made from wood pulp.
Her premium non-toxic Natural Dyed Bespoke collection features stunning silk garments that have been hand-dyed using natural dyes such as fruits, plants, coffee and eucalyptus.
She added: "Fabric choice is one of the most important pieces of the puzzle when it comes to sustainable fashion. So, when launching Fullalove, I was looking for fabrics that would be biodegradable, that aren't force-grown and that are fully sustainable. But, true ethical clothing needs to go further, taking into account the way the fabric is treated and coloured too.
"I'm really excited about helping to change perceptions about what great fashion means and hope to prove that you can look great without it being at the expense of our planet's resources."