Return to networking first at the East Midlands Leadership Awards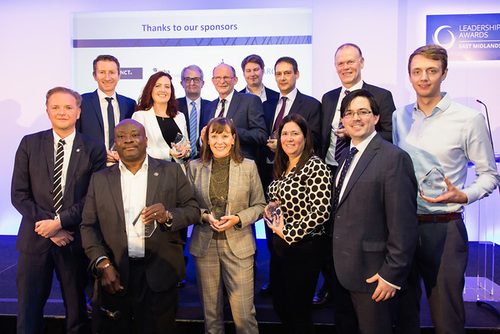 TheBusinessDesk.com has released details of our rearranged East Midlands Leadership Awards.
This year's event was postponed last year due to ongoing Covid-19 restrictions, but we have now confirmed a new date- and a new venue – for next year.
The East Midlands business community will be able to come together to celebrate the best in business leadership on Thursday July 1, from 12-3pm at Colwick Hall in Nottingham city centre. Tickets are now available.
Tickets for the original date will of course be valid for the event in July.
Andy Dawson of headline sponsor Curium Solutions and former Business Masters winner and successful East Midlands entrepreneur Susan Hallam of digital agency Hallam have picked their shortlist.
Wherever there were conflicts of interest, our judges cast their vote for alternative entrants.
The keynote speaker will be Sean Jarvis, chief executive of Leicestershire County Cricket Club, and our charity partner for the event is Notts County Football in the Community.
The shortlist:
Company leader (over 100 employees)
Reshma Sheikh, Octavian
Matthew Crawford, Embark Federation
Stewart Vandermark, Nelsons
Tony Strong, Opus Trust Communications
Company leader (up to 100 employees)  


James Healey, Air IT
Steve Walker, Improve
Scott Parsons, Forsyth Barnes
Jamie Mollart, RKH
Stephen Pratt, Godwin Developments

Transformational Leader
David Essam, Frontline Recruitment
Amanda Fletcher, The Nottinghamshire Golf & Country Club
Glynis Wright, Glynis Wright & Co
Richard Sutton, NG Chartered Surveyors
Reshma Sheikh, Octavian Security
Public and Third Sector
Ann Bhatti, Connect Derby
Barbara Cathcart, Nottingham Hospitals Charity
Matthew Crawford, Embark Foundation
Parvez Bhatty, Leicester Children's Holidays
Naomi Watkins-Ligudzinska, NW Counselling Hub CIC
Young Leader
Peter Evans, Orderly
Shyam Morjaria, UK Meds
Trent Peek, CCM
Sam Kirk, J-Flex
Jake Third, Hallam
Tina Clough, Poppy PR
Click here to book your tickets
Professional Services
Keith Ross, Barclays
Jonathan Jenkins, Planning & Design Practice
Serena Humphrey, F Word Training
Sean Price, Velez
Stewart Vandermark, Nelsons

Emerging Entrepreneur
James Healey, Air IT
Richard Sutton, NG Chartered Surveyors
Trent Peek, CCM
Ben Solomon, Octavian IT
Libby James, Merchant Advice Service
Empowering Potential
Reshma Sheikh, Octavian Security
Amanda Fletcher, Nottinghamshire Golf & Country Club
David Essam, Frontline Recruitment
Libby James, Merchant Advice Service
Trent Peek, CCM
Diversity & Inclusion Award
Serena Humphrey, F Word Training
Mayank Shah, MSDUK
Sean Price, Velez
Richard Sutton, NG Chartered Surveyors
Best Leadership Programme
TBA on the day
Leader of the Year
TBA on the day