Spending Review outlines largest fall in output for 300 years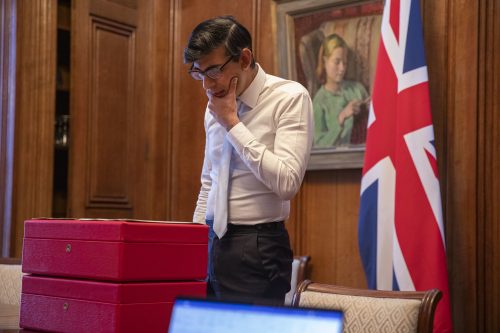 The UK economy will shrink by 11.3% this year – the largest fall in output for 300 years – Chancellor Rishi Sunak said on Wednesday afternoon in his Spending Review.
Sunak said the Covid-19 will leave "long-term scarring" and that the economy won't return to pre-pandemic levels until Q4 of 2022. By 2025, said Sunak, the economy will be 5% smaller than first thought in the Spring Budget earlier this year.
The Chancellor also said that Government borrowing will reach almost £400bn this year – some 19% of GDP, the largest level of borrowing in peacetime.
Sunak said that a new "infrastructure bank" will be set up and headquartered in the north of England. It will finance major projects starting from next Spring.
A new £4bn levelling-up fund was also unveiled. Local areas will be able to apply for funding for major projects starting from next Spring. The projects, said Sunak, would have to have "real impact" and be delivered within the lifetime of his Government. However, details on these initiatives won't be released until the New Year.
Elsewhere, Sunak said the Conservative manifesto pledge to spend 0.7% of GDP on overseas aid will be temporarily scrapped. It will be cut to 0.5%.
Some one million nurses, doctors and others in NHS will get a pay rise, while others in the public sector will be faced with a pay freeze. Another 2.1 million public sector workers who earn below the median wage of £24,000 will be guaranteed a pay rise of at least £250 next year.
The National Living Wage will rise to £8.91 a hour and there will be a Minimum Wage increase, said the Chancellor.
He added: "This Spending Review delivers on the priority of the British people. Our immediate priority is to protect people's lives and livelihoods. Our health emergency is not yet over and our economic emergency has only just begun."
Scott Knowles, chief executive of the East Midlands Chamber was sceptical. He said: "Ultimately, all these pledges amount to absolutely nothing until we see this money spent on the ground. We already know the East Midlands receives less infrastructure investment per head than anywhere else in the country – £268 per capita in 2018/19, just 56% of the £481 national average – and we still await confirmation of the Eastern Leg of HS2. On this one, the proof of the pudding will very much be in the tasting."
Maria Machancoses, director of Sub-national Transport Body Midlands Connect, said:"The Chancellor's statement gives a much-needed boost to the levelling-up agenda. It's great to see the publication of a National Infrastructure Strategy that focuses on speeding up the delivery of improvements, supporting our recovery from COVID-19.
"Now is the perfect time to invest in our roads, railways and the green technology central to our carbon-neutral future. We're committed to working with our partners and Government to ensure the improvements mentioned are implemented as soon as possible, and to ensure we secure the best possible transport deal for the Midlands."
Amanda Dorel, regional director for the East Midlands at Lloyds Bank Commercial Banking said: "It's promising to see the Government putting money behind its commitment to invest in infrastructure at a local level as part of the levelling-up agenda. This will provide a much needed boost to the East Midlands following what's been a particularly difficult year.
"As the manufacturing heartland of the UK, a number of businesses across the region could benefit from investment or support to 'build back better' following the pandemic. We will remain by the side of the business community across the region to help them make the most of the opportunities that come their way."