'Pace and demand for our digital marketing services literally changed overnight'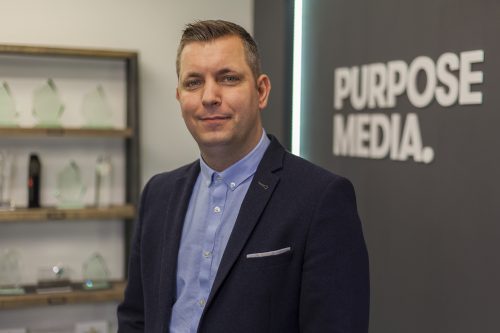 Matt Wheatcroft is the managing director of Purpose Media, the South Normanton-based full-service marketing agency, mixing bold creativity and technical know-how.
---
Communication is key. The best thing about my job is the diverse group of people we have here at Purpose Media. Especially under the current climate. There is a real sense of cameraderie and togetherness that has helped us get through a tough year of trading. Throughout lockdown, communication with staff has been key to keep them motivated, as a result, I managed to develop much better personal relationships with them.
The big opportunity is going to be in the growth in digital marketing. We have definitely seen an increase in businesses looking for help identifying alternative solutions to sell their products or services in order to survive. Purpose Media has practiced what we preach and have continued to invest heavily in our own marketing. Thankfully this has placed us in the 'right place at the right time' to help businesses who as a result of COVID-19 have been forced to think about their online offering and need help to become more digitally savvy.
The retail sector for example "boxed smart" and were very quick to implement click and collect initiatives, whilst their physical stores were closed. These types of initiatives are now starting to trickle into other industries and sectors.
Let's talk about the C-word. Whilst there is increased awareness of the importance of digital marketing, there are still a lot businesses who remain reticent to spend on marketing in order to improve their digital presence. These businesses need to fast track developments to their website, and define their social media and email marketing strategies.
Pace and demand for our digital marketing services literally changed overnight and those that were brave and invested early on are now starting to reap the rewards. Hopefully those who have still to take the leap will now be motivated to do so. This will undoubtedly create a demand for these specialist marketers so we need to do ensure we recruit and retain the best.
The customer is key. I firmly believe that if you look after your customers, they will take care of you in return. Our business has evolved thanks to the reviews we receive from happy clients, by word of mouth recommendations which are supported by seeing our brand in local news, and the advisory nature of our marketing communications.
These activities have been even more important over this past year as traditional forms of winning new business via networking have fallen by the wayside.
The most important lesson I have learnt is to voice your opinion when you know something isn't right. This is something I strongly believe, and I encourage all at Purpose Media to be honest with our clients (even when you know it might upset them), be realistic and set expectations that everyone can works towards.
I would like to think this is why Purpose Media has been so successful over the years as we provide constructive, no nonsense advice to our clients.
I learnt a lot from my first CEO. Jeff Scrivener who employed me at Emtex – East Midlands Textiles Association – some 18 years ago sadly is no longer with us, but he gave me my first management position, and this paved the way for Purpose Media to be born.
The culture at Emtex was very stuffy and set in its ways at the time. Jeff was a bit of a character and he clearly saw something in me and gave me the opportunity step outside the box within the organisation by doing things differently and breaking the mould.
Jeff basically gave me full autonomy to make my own way within the organisation which I took with both hands and moved forward at pace. Sometimes I did not make the right call, but Jeff gave me the opportunity to make mistakes and learn from them. He always knew that every decision I made was taken with the best of intentions, and for that reason I am forever grateful for the opportunity, trust, support and guidance Jeff gave me during the 6 years I worked at Emtex in the very early days of my career.
I learned a hell of a lot from Jeff and this will never be forgotten.
It's important to switch off. My daughters are involved with Derby County Women FC U11s and U14s. I also coach and sponsor the U14s team. I also coach and sponsor another U11s team that I have been involved with for the past 6 years at Sleetmoor United FC. Football with my kids is a huge part of our life and it's not uncommon for me to spend five nights a week doing some sort of football related activity with the family.
During the summer I am a member at Kedleston Hall golf club, so when time allows, you'll find me trying to play to a 15 handicap.
---
---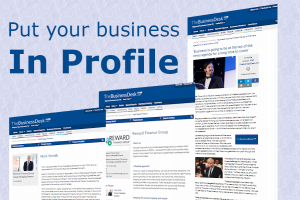 Appear in your own In Profile feature by signing up for a Business Profile on TheBusinessDesk.com.
The company and individual profiles on TheBusinessDesk.com are designed to help our clients build corporate and individual awareness within the regional business community and benefit from TheBusinessDesk's traffic and visibility in the business community and the search engines.