Leicester lighting firm set to expand Down Under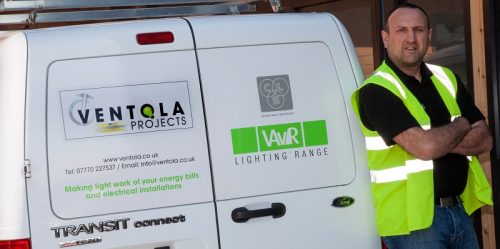 A Leicester lighting specialist is set to break into new territories after its products were approved for use in Australia and New Zealand – with further developments expected for the USA.
The expansion builds on continued export growth across the US, Europe and Middle East for Ventola Projects
The company, which manufactures its LED VAvR lighting product in the UK, has enjoyed strong success overseas in recent years, with Las Vegas hospitality venues, US Air Force bases and even a Qatari Royal Family palace benefiting from the lighting effects Ventola can provide.
Distribution is already set up across the US and the Middle East, and with the prospect of free trade deals circling the UK Brexit stratosphere, Ventola has decided to extend IEC compliance of his products to the Australasia region.
"We're delighted to kickstart the year with growth into new territories alongside plans to further expand existing export markets," said Ventola Projects founder, Mick Ventola.
"We've been operating successfully overseas for a number of years, steadily building our distribution network whilst keeping production right here in the UK.
"This allows us to keep a tight control over the quality and output of our product, whilst still ensuring there are strong lines of communication across the supply chain, with installations at Family Entertainment Centre (FEC) venues, hotels, bars, clubs and more across the world."
"With orders already on the periphery, we look forward to seeing our business network evolve in Australia and New Zealand, as the UK looks to bolster its trade links worldwide."
Here in the UK, Ventola Projects enjoys a strong relationship with Ten Entertainment Group (TEG), which is perhaps most commonly associated in consumer minds to the Tenpin brand, with 46 sites across the UK.
Most recently, Ventola installed a VAvR experiential projection & LED lighting system at TEG's famous Printworks venue in Manchester, as new and ever more inventive visual effects within the bowling experience evolve to grab consumer attention.
"Lighting is just one of a number of visual effects that are playing a huge part in transforming the bowling experience across the industry," said Graham Blackwell, CEO of Ten Entertainment Group
"We've worked with Ventola Projects for a number of years, with their VAvR LED products helping to grab guests' attention and enhance the enjoyment of families seeking to relax and unwind at our venues across the UK."