People consultancy relaunches Nottingham office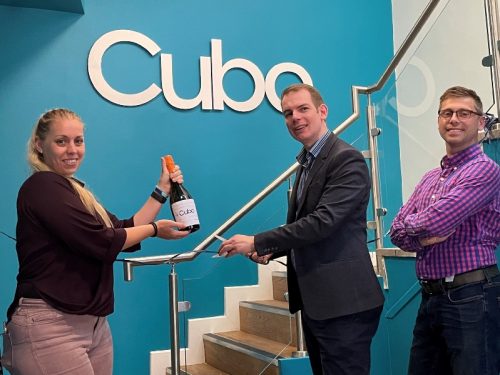 People consultancy Talk Staff has cut the ribbon on its new Nottingham office on King Street – two years after it was forced to close after the company's landlord sold its previous city premises.
The company said that the flexible workspace at Cubo Nottingham is in response to a surge in demand both from a growing client base in the city and Talk Staff's burgeoning Nottingham-based workforce.
Gary Parsons, managing director at Talk Staff, said: "Talk Staff has always been a Nottingham and Derbyshire based business from our inception in 2009. In fact our first client was a business in Nottingham. Having opened our first office in Nottingham in 2017, we were told in the latter part of 2019 our building owner had sold the premises and we needed to find somewhere new.
"We gave our staff the flexibility to work either from our Belper office or from home to suit their individual preference. This was only designed to be a temporary measure while we found the right place, then the COVID-19 pandemic hit, which made it far more sustained than it had ever planned to be."
Talk Staff, like many businesses, considered at this point whether an office was even required. But the company said that after extensive consultation across the business, it decided to press ahead with plans for a new Nottingham location.
Parsons said: "From a talent perspective, culture is really important here at Talk Staff, and our team told us they needed a place to call home, which we support with the technology they need to work flexibly from wherever suits them the most.
"From a commercial point of view, we are on target to double the size of Talk Staff and want to make our growth as quick as possible. It's deliberately in Nottingham, as it's important for us to bring in local people, with local knowledge about the specific needs of our Nottingham clients."
Talk Staff worked with Invest in Nottingham to find a facility which was flexible enough for the Talk Staff team and strategic enough to grow with their needs.
James Mann, business expansion specialist at Invest in Nottingham, said: "It's great that we were able to support Talk Staff on their move back into Nottingham city centre and find the team a new space at Cubo. Having a company that is so passionate about people and talent based right in the heart of the city is hugely beneficial to our ecosystem.
"Talk Staff have signed an agreement with Cubo to allow their growing Nottingham team a place to call home. This is also supported with full access to Cubo's growing network of other UK locations, giving the Talk Staff team a place to work – whether they're in Nottingham or when meeting customers in other parts of the country."