People: Pattersons Commercial Law; Canal Turn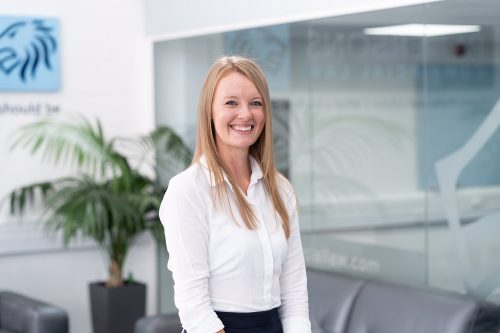 Pattersons Commercial Law has promoted Kirsty Adams to managing associate.
Adams initially joined the Leicestershire firm in May 2018 as a chartered legal executive specialising in residential conveyancing.
She said: "Since joining Pattersons Commercial Law in 2018 I have received continuous guidance from everyone, old faces and new. Not many people can truly say they enjoy what they do for a living, but I can, and this is down to the team surrounding me and the support in decisions and choices I have made and continue to make.
"We have some exciting plans and developments coming up with the property department and I'm looking forward to working with the team to make these plans successful."
Rik Pancholi, managing director at Pattersons Commercial Law, said: "As part of the development of the firm, Kirsty has played an instrumental role in the direction of the property team, including the expansion of the team into residential conveyancing.
"I am so proud of the personal and professional development I have witnessed in Kirsty over the last few years and I'm really looking forward to seeing what Kirsty is able to achieve as part of the leadership team during 2022."
Sales and marketing manager Liam Morgan has joined the team at Canal Turn – the new venue set to launch this summer as part of The Island Quarter regeneration scheme in Nottingham.
Morgan will help to launch the venue and support the running of its events space and two on-site restaurants, Binks Yard and Cleaver and Wake.
He will work alongside head of events Ben Hicklin, head of operations Gary Whitehead and food, beverage, and events project director John Whitehead.
Canal Turn is the first phase of the £1.5bn, 36-acre Island Quarter project. Over 80 hospitality roles are expected to be created at the venue.
Morgan, who has previously worked on the events floor at Shangri-La at The Shard and at Brewhouse & Kitchen in Nottingham, said: "With the opportunity to be part of one of the largest regeneration projects in the UK in the past 20 years, joining the Canal Turn was an obvious choice. The team behind the incredible concepts for this new building and its venues are an inspirational group of people, and together we can bring our ideas to life.
"The level of detail delivered within the individual brands, and the people who are expressing interest in being part of the venue's offerings will blow everyone's mind. We have a busy time ahead of us, but I can't wait to get stuck in and work with the team to deliver something exceptional."
John Whitehead added: "The entire team are excited to welcome Liam. His vast work experience and approach will be game-changing for the venue's success – both for the launch and its promising future. It's important for a project this size to have an ambitious and diverse team who bring their unique qualities to the table. Liam certainly does this and we are delighted to have him onboard."