People: Blueprint Interiors; Nottingham City Business Club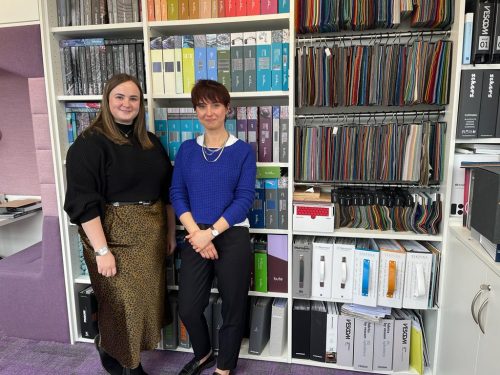 Blueprint Interiors has expanded its team with two new appointments.
Kate Bennett and Martyna Paluszkiewicz have joined the Ashby-based workplace consultancy and commercial fit-out company as project designer and pre-construction manager.
Paluszkiewicz said: "WorkLife Central [Blueprint's Ashby de la Zouch HQ] is an amazing place to work with a friendly atmosphere and great people. From day one I have felt like part of the team and I am looking forward to making a positive contribution to the company in order to ensure our clients' offices meet their business objectives and the design brief."
Bennett added: "I have worked across most industry sectors and so I have a wide variety of transferrable skills and experience which I'm almost certain I will be able to bring to my new role. Our 'people first' approach starts within our great office in Ashby-de-la-Zouch, and I can't wait to advise other employers how they can benefit from this ethos.  By involving us during the feasibility stages of their decision we can help to ensure their space meets the needs of their people."
Nottingham City Business Club (NCBC) has named its new president.
Current vice-president Ross Davies, director of Strafe Creative, has taken over the reins at the B2B networking organisation from The Dairy's managing director Nigel Rowlson.
Founded in 1924, NCBC is the oldest business club in the UK outside London.
Davies said: "I'm hoping to continue the great work Nigel has done in helping to diversify our membership. NCBC has an exciting opportunity to grow and stay relevant to today's business and networking needs and wants.
"My aim is to maintain the traditions that have made the club the success it is today whilst truly representing Nottingham as the modern, vibrant and exciting city that it is – and that can only start with its people."
Rowlson, who held the post throughout a challenging 12 months, added: "Stepping into the position of president during such an uncertain time was not something I took lightly. I had a clear vision of how I wanted to develop the Club but had to remain flexible as we came out of a more isolated way of life.
"It was important for me to slowly build back up numbers for our events and meetings, encouraging new and old faces to make those all important connections. While I realise it was a challenging time for all of us, I'm proud of how we have worked together and come out the other side as an even stronger collective."