Housing association makes £190m home-building pledge as work completes on new HQ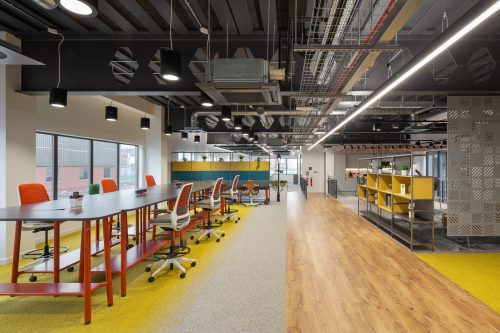 Futures Housing Group is set to move into a new 15,000 sq ft office building at East Midlands Airport.
AG Project + Building Consultancy (AG) completed the £2.5m design and build contract for the housing association, which has now provided affordable homes to people across the East Midlands for more than a decade.
The not-for-profit company's new HQ will house 100 people.
Futures was previously headquartered in Ripley. It currently looks after 10,300 homes extending from Derbyshire to Daventry and now says it is planning to invest over £190m in new homes by 2024.
Ian Skipp, group finance and resources director at Futures, said: "We needed a new, state-of-the-art office that delivered a flexible and more sustainable base, and that's exactly what AG Project + Building Consultancy have helped deliver for us. It's a high-quality, well-designed space that provides a safe, healthy and productive environment for all our teams. We love it."
Tom Hargreaves, director at North West-based AG, added: "It was a pleasure to work on this project and help deliver a new head office for the Futures Housing Group team that gives its people a great and healthier environment to work in.
"The lease on the old office was due to expire, and the new office at East Midlands Airport provided an excellent opportunity to deliver a more agile workspace while ensuring it was easily accessible for staff and visitors."