Chord Consult on song after successful first six months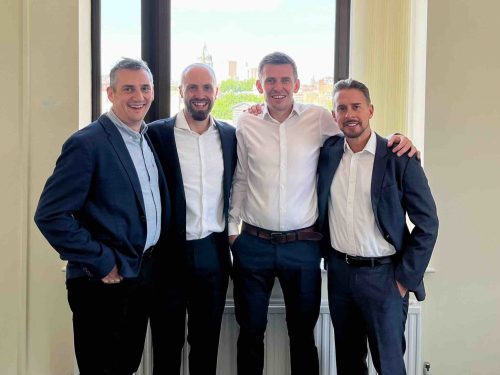 Back in June, TheBusinessDesk.com reported that a new mechanical and engineering (M&E) and low carbon consultancy had been established in Nottingham by industry experts Ash Cowdrey, Alex Jones, Matt Wrate and Jim Frisby.
Chord Consult has grown rapidly since its launch earlier this year, expanding its team and picking up a raft of big-name clients. Six months on, we sat down with the firm to discuss the challenges it has overcome as a start-up – and to hear how the business is flourishing.
Alex Jones, director, said: "The first thing to report is that we now have 18 members of staff on our payroll, which is amazing and something we're all proud of. At Chord we're very aware of the skills shortage in construction and have no doubt that attracting and retaining talented staff will be a key challenge in the future. We're honoured that so many of our old colleagues have put their faith is us. We've got a dream team of trusted engineers, whom we've worked with for years, and the office is a really inspiring and friendly place to be."
Co-director Matt Wrate, who is also in charge of IT at Chord, said: "All of our engineering staff have specific IT requirements, such as 3D BIM modelling, which means we have to make serious investments in hardware and software. Luckily we found an amazing IT consultant, SP1, who have quickly helped us evolve a really slick operation.
"The office has evolved quickly too. We initially bought (literally) a truckload of second-hand furniture for £500. Ash drew the short straw and was allocated all office cleaning duties for the first 4 weeks. However, we knew things were going in the right direction when we agreed we could afford a coffee machine, and Ash got promoted to trainee barista!"
Ash Cowdrey, director, said: "Our new office is in a great location. We're on Canal Street, which is a rapidly improving area, with good access to the station and tram. There are also some great bars opposite our place – to be honest we probably spend a bit more time in The Canal House than we should do but there seems to be something to celebrate most days.
"One downside to the office though was the heatwave back in July. We've been on a budget, and we don't have comfort cooling (yet). It was a challenge for a couple of days! We all sat with our feet in washing up bowls filled with cold water, which seemed like a great idea… until we saw Jim Frisby's feet. We've now banned him from wearing open-toed sandals – it's even listed in our directors' agreement."
Keen to ignore this, fellow director Frisby told us about the company's growing workload.
He said: "It's been amazing to see how our client base has grown in the first two quarters. We're working with some great clients across the UK such as McLaren Property, Henry Boot Developments, Inspired Villages Group, Charles Street Buildings Group, and Bowmer & Kirkland. We're also working on local schemes with Spenbeck, Nottingham Trent University, and the University of Nottingham. Even closer to home, we're working with the amazing Island Quarter development team just across the road from us, and the new Central Library development on Collin Street, which we can see from the office."
The firm's office administrator Rebecca Jackson said: "It's been amazing to part of Chord's journey. We've been so busy, but it's such a nice environment that everyone is really enjoying the challenge. We're currently arranging our first Christmas party – a day trip to London, and we're planning to celebrate our first six months in some style."
Associate director Alex Skidmore added: "It's been brilliant to see the team grow over the summer and working with old friends has been the icing on the cake. As we move into 2023 we've got plans to upgrade the head office for next summer – nobody wants to see Jim's feet ever again. Also, look out for our really exciting plans to open a new office in Milton Keynes after Christmas."