Toyota to develop hydrogen-powered pick-up truck at Derbyshire plant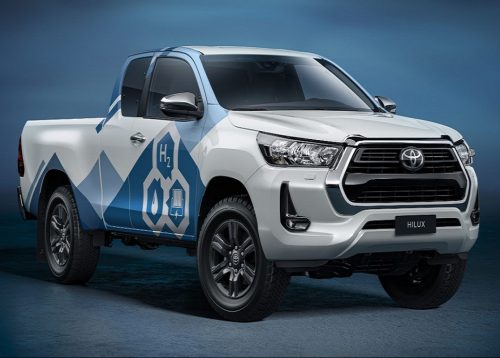 Plans to develop a prototype hydrogen fuel cell-powered version of the Toyota Hilux have taken a step forward after the firm secured investment to carry out the project at its plant in Burnaston, Derbyshire.
Toyota Motor Manufacturing UK (TMUK) will lead a consortium consisting of technical engineering partners Ricardo, European Thermodynamics, D2H Group and Thatcham Research on the ground-breaking initiative after receiving Government funding through the Advanced Propulsion Centre (APC).
The company says the project reflects its "360-degree approach to sustainable mobility across all sectors."
The funding from APC will enable Toyota to develop hydrogen technologies for the pick-up truck market for the next three years.
Initial prototype Hilux vehicles will be produced at Burnaston during 2023. Should the trial prove successful, Toyota will then prepare the vehicle for small series production.
Richard Kenworthy, managing director of TMUK, said: "The opportunity that this funding enables is significant and goes towards developing the technical capabilities not only of our employees here at our site in Burnaston in the East Midlands but also of those within the wider consortium partners. 
"This region is heavily committed to supporting zero emissions mobility and we see this project as a great opportunity to contribute to the critical path on the road to carbon zero mobility. 
"This UK Government funding will enable teams within the consortium to acquire key skills that can then be used to investigate other fuel cell applications." 
Matt Harrison, Toyota Motor Europe president and CEO, added: "The UK is one of the key markets for pick-up trucks and an important market for Toyota. This funding represents a tremendous opportunity to develop a zero-emission solution in a critical market segment. We would like to thank the UK Government for the funding that will enable the consortium to investigate the development of a fuel cell powertrain for the Toyota Hilux, supporting our carbon neutrality ambition."