On the move: the latest East Midlands hires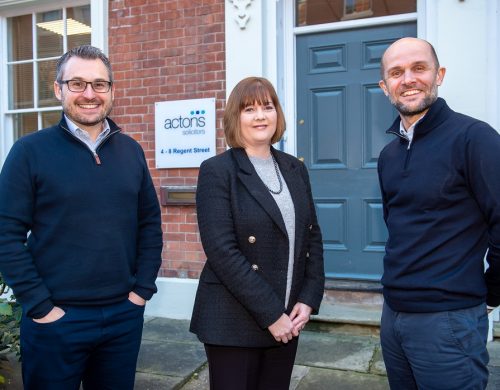 Actons has appointed a new director.
Experienced contentious private client solicitor Nicola Parr joins the Nottingham-based law firm from Chattertons.
Parr has specialised in contentious probate and court of protection work since qualifying in 2001 and previously worked for Nelsons. She is an Associate member of the Association of Contentious Trust and Probate Specialists (ACTAPS).
She said: "I'm delighted to have joined Actons to grow the firm's contentious private client services and our profile in the marketplace. Now a few weeks in, I've got to say everyone at the firm has been fantastic and very welcoming. I was attracted to join Actons by the opportunity to grow the work area, but also to join a firm where I admired their culture, approach to hybrid working and their enviable position in the local market."
Simon Dakin, chairman of Actons, said: "I am thrilled to welcome Nicola to the firm, and excited that we can expand the range of matters on which we can advise our clients to include contentious private client matters. Nicola's arrival, along with the recent arrival of property lawyer Kerry Elliott, is a testament to our ability to attract experienced high calibre people – something which we're very keen to continue."
Nic Elliott, director and head of the Dispute Resolution & Employment Group at the firm, added: "Nicola's arrival is a key part of the Groups' growth strategy and compliments the other dispute resolution services we offer. We highlighted contentious probate as a growth area, given the huge rise in demand, and have been looking for someone of Nicola's calibre to join the firm for some time – so we're delighted she's joined us."
Vertu Toyota Leicester has welcomed a new general manager.
Nathan Sawbridge HonFIMI entered the motor industry in 2009 and previously held roles with Pendragon and Inchcape.
Sawbridge is a member of the Institute of the Motor Industry (IMI) diversity taskforce, which was established in 2021 to understand the challenges and barriers under-represented groups face when working within or trying to enter the automotive industry. He is also an honorary fellow of the Institute.
He said: "I met Vertu Motors plc chief executive Robert Forrester through the IMI and instantly knew that this was a leader and company with values that are closely aligned to mine.
"The opportunity to join Vertu Toyota Leicester, which is part of one of the most diverse areas in the country, is very exciting. I am looking forward to working with my new colleagues and getting to know customers from across the whole community.
"I also hope that I can continue to encourage people from all backgrounds that this is a great industry to build a career in."
Chris Taylor, group operations director, said: "Nathan is a talented and high potential leader who has a true passion for the iconic Toyota brand, and for leading his team in Leicester to deliver the highest levels of customer service."
Vertu Motors CEO Robert Forrester added: "I am absolutely delighted to welcome Nathan to the Group.
"He is a consummate professional, and through his work with the Institute of the Motor Industry (IMI) is changing the sector for the better. To receive an Honorary Fellowship is testament to his passion for encouraging diversity and inclusion and this is something that resonates with me.
"I am certain he will be a great success at Vertu Toyota Leicester."