High powered panel call for more freedom for regions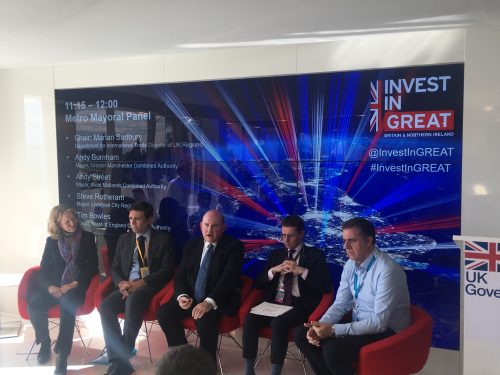 X

Register for free to receive latest news stories direct to your inbox
Register
The UK's regional cities need to be given more power and freedom to get on with the job of powering the economy – according to a panel of Metro mayors.
A panel discussion at MIPM included Liverpool city region mayor Steve Rotheram, Greater Manchester boss Andy Burnham and the West Midlands mayor Andy Street.
The trio were also joined by Tim Bowles – the West of England's Metro Mayor.
Steve Rotheram said: "We have a vision and a plan in Liverpool and we need to be given the power to get on with it.
"What we have at the moment is decentralisation not devolution. We still have a command and control centre philosophy at the heart of government.
"Unless we move away from a London centric way of thinking from the politicians we are never going to be able to rebalance the economy.
Conservative mayor Andy Street added: "The thing that unites us all is an utter belief that the UK's economy will be stronger if we have stronger regions."
Andy Burnham was the most passionate on the subject of devolution.
He said: "The UK needs to set its cities free. Central Government is struggling to deliver at the moment but it cannot afford to ignore the regions.
"We are at a moment where whatever happens in Westminster, we should all agree that here in the regions we need to be set free.
"There are more cranes on Manchester's skyline than in any other city in Europe. It would be wrong for the Government to hold that back."
Steve Rotheram said: "We have to change the mentality in Government which has seen jobs centre in the South East. We can deliver the skills that the government needs."
"It is cheaper to do things in the regions than in one of the most highly priced pockets of the economy. It is not grim up North any more."
Andy Burnham said: "When I was Culture Secretary and was involved in talks with the BBC about moving to Salford it was awful.
"The move was done through gritted teeth but I think it has enhanced the BBC as an institution.
"GCHQ has said it coming Manchester because it wants to access the talent and the different voices in the regions.
"I think it enhances institutions when they move out to the regions.
"Europe gave out money on a social basis while the Treasury model is based on the economy.
"If we do leave Europe it will be a tragedy if the Treasury keeps shovelling money into the overheated areas of the economy."