Change for good – where the opportunities lie for the North to drive post-Covid economic recovery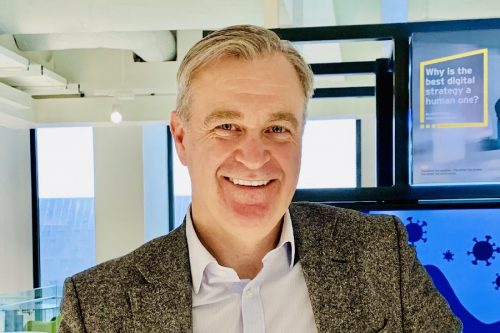 The UK economy looks likely to avoid a double-dip recession, according to EY ITEM Club's latest forecast and while some sectors are clearly still struggling, there are encouraging signs that the recovery could be stronger than initially thought.
EY's Market Leader for the North, Stephen Church, says: "M&A is a good indicator of future growth, and things have picked up after the lows of mid-2020. Likewise, there is anecdotal evidence of productivity improvements, which should provide businesses with a strong platform to build on. If this feeds through into profits, then business investment may return faster than current sentiment implies."
As businesses across the North work to build back better, they must be supported in boosting performance across every metric. From improving connectivity and co-operation between our city regions, to enhancing the skills of our workforce, to removing barriers to enterprise and unlocking private investment – productivity is at the heart of the solution.
Regional economies and politics
Although 'the North' is often talked about as a single entity, the economic make-up of the regions in the North are widely different and so are the productivity challenges.
Damian Waters, Regional Director for the CBI in the North West, says: "Some of the differences within the North are bigger than between the North and other parts of the UK."
Indeed, EY's latest Regional Economic Forecast shows that the North West had the smallest decline in GVA over 2020, after London and the South East, and is forecast to be one of the country's strongest performing regions to 2023. Conversely, Yorkshire and the North East are both forecast to be among the regions with the slowest economic recovery from the COVID-19 pandemic.
This is partly because the North West is home to a higher proportion of sectors likely to have been least affected by restrictions on activity, including financial and professional services and IT. Among other factors, these sectors were able to move a significant share of activity online during the pandemic.
Manchester, Liverpool, Preston and Carlisle in the North West; Sheffield, Leeds, York and Wakefield in Yorkshire; and Newcastle in the North East, will continue to outpace their respective region's benchmarks in terms of GVA growth to 2023.
Even when comparing places that are in close proximity to one another, differences between local economies within a region are significant and across many of the North's smaller towns the picture is less positive.
"Manufacturing, arts and leisure, and hospitality – crucial parts of the economies in towns, and the North – have been most affected during the pandemic or are likely to take longer to recover," says Church, adding that new approaches are required to avoid a growing gap between towns and cities, as well as North and South.
He says a policy focus on supporting sectors, like manufacturing, which matter to both investors and towns would help, while the shift to 'net zero' could transform the North's economy.
Crucially, boosting local capabilities and understanding local characteristics should be the starting point for working up to national policy frameworks.
Waters has been a regional director for the CBI for 18 years and says that during that time his role has become increasingly politicised, with policymaker engagement now more significant than ever.
Devolution has brought us City Mayors, and Waters points to Andy Burnham and Steve Rotherham as obvious focus points.
Waters says: "They are connected, and these personal interactions help. Speaking to people across other English regions they look at these two and say, 'we wish we had someone like that who is a focal point.'"
Working together, recognising our differences as strengths
When the CBI was drawing up its mayoral manifestos, its challenge to candidates was to ask, 'what is the uniqueness of this region that you can focus on that doesn't happen anywhere else?'
Church thinks that is the right approach if regions, cities and towns across the North are to focus their efforts and drive productivity.
"Every region wants to do everything. No one region or city will step back and let another lead on a certain area. Of course, there are concerns about trying to pick winners, but every city cannot be and is not great at everything – we do need a more mature approach," he says.
Waters agrees, adding: "When we talk about regional planning it is with an eye on what is new but we should also build on what we already have. The real strength of the Liverpool City Region that is often overlooked is its maritime sector. People think it is an industry of the past, but it has a huge amount of opportunity.
"And look at manufacturing – we are more productive in the North West than anywhere else. Let's build on what is already successful."
Long-term, mutually invested schemes – specifically around transport and connectivity – should be agreed at a pan-regional level across the North, say Church and Waters and they highlight access to the Port of Liverpool and as an example of a nationally significant project that continues to be seen within Whitehall as a 'local issue'.
"That train from the port of Liverpool to Drax takes eight hours to do that journey. Surely it is of national benefit to have a port connected to transport," says Waters.
Bricks, bytes, behaviour
The pandemic has certainly affected political conversations about transport and the movement of people – and it has brought the much broader question of the "future of work" into the spotlight.
"Businesses are talking about reducing their office footprint, with some planning to close offices when the lease is up and have everyone working at home," says Waters.
The challenge is far bigger than broadband connectivity for staff working from home.
Waters says that while the first lockdown saw productivity increase, more of the CBI's members are now seeing that slip back.
At EY, Church has a focus on delivering tech-enabled transformation for clients with demanding change agendas – helping businesses to build back better.
He says employers must take a holistic approach across what he calls 'Bricks, Bytes and Behaviours' to create an environment for their teams to thrive.
"Some businesses are in a race to reduce real estate without understanding what else they need to implement. What is your real estate strategy going forward? If you will be working in a way that is future-safe, you may need more space because of how the space must be configured – even if that is collaboration space and not fixed desks," he says.
Within behaviours, with so many more people working from home, Church asks, 'what culture do you need to create within your organisation?'
The CBI's members are increasingly talking about the mental health of their staff and wellbeing.
Addressing behaviours and colleague interactions includes training and mentoring staff and deciding how future career programmes will work when people are not regularly sitting together.
"Not having human interaction is huge. People are really missing out on learning leadership skills. It's hard to do that on a Zoom call. A limitation on the productivity of the region is leadership," says Waters.
Businesses are changing their approach when recruiting new staff, which if managed properly, is an opportunity for more diverse candidates.
"One law firm has stopped graduate recruitment altogether and gone straight to post A Level," says Waters.
"Another firm is recruiting a team from communities that wouldn't previously have come into Liverpool city centre."
Finally, on Bytes, Church says: "Think about the technology your business needs to invest in so your people can be more productive. If you are going to get back to the efficiency and productivity levels that you need to be at, recognising that they have dropped, then you will need an infrastructure and digital technology roadmap."
The conversation ends with a question – one both would like to see picked up again at the Invest North conference: How do businesses ensure the positive changes made through necessity during the pandemic become embedded so that when normality returns, they have that change for good?
:::

EY is one of the partners for the landmark Invest North conference curated by TheBusinessDesk.com. The programme for the not to be missed one day event has been unveiled and includes sessions on the future of the North, redefining cities in the post pandemic world and the future of the devolved North.
 Stephen Church, EY's North market leader will be joined by sector and industry specialists from across EY's network to discuss transformative opportunities in sustainability, technology and human capital. 
To see the full programme of events and book your tickets  visit InvestNorth.uk and ensure you're part of setting the agenda for what comes next in the North.