Tenders open for Bradford food hall operator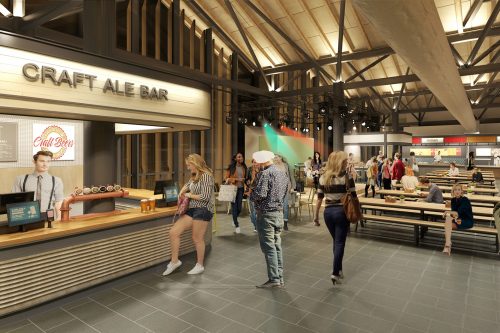 Bradford Council is looking for an operator for the food hall at its revamped Darley Street Market, due to open in autumn 2023.
The food hall, on the upper level of the multi-level market, will have 11 food kiosks, two bars, a stage for day and night entertainment, and seating for 500 diners.
The multi-million pound market redevelopment is part of the ongoing regeneration of Bradford City Centre in the run up to 2025, when it becomes the UK City of Culture.
Coverpoint, Bradford Council's food service consultants, are now inviting tenders to run the hall from operators with "vision and passion for food and foodservice".
Coun. Alex Ross-Shaw, Bradford Council's executive member for regeneration, planning and transport, said, "The new food hall in the market will be an amazing destination that will fly the flag for a fresh, innovative and more sustainable approach to the food and beverage sector in the city centre."
Coverpoint director Richard Moulds said: "The operator will have the expertise to manage the food hall and work with local independent operators to run the kiosks. They will also have the passion and vision to create a vibrant and community-focused venue, that helps further secure Bradford's place on the culinary map of Yorkshire and the UK. The operator could have a background in restaurants, breweries, street food collectives or even contract catering, or be a local business entrepreneur. The most important consideration is the cultural fit and the sense of community spirit."
Tender packs and further information are available from richard.moulds@coverpoint.co.uk or Adam.Griffin@coverpoint.co.uk.