Wolverhampton reaping rewards from speculative development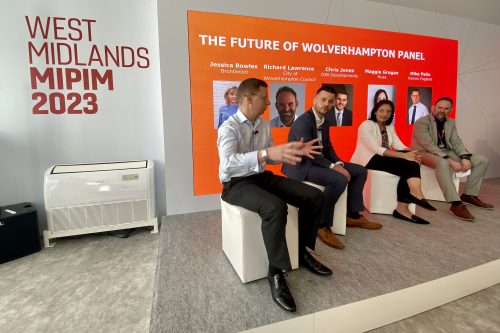 Wolverhampton is proving itself to be a successful case study for public sector-led partnerships transforming a city centre, an audience at MIPIM was told.
City of Wolverhampton Council's director regeneration Richard Lawrence, speaking at a panel event at the international property event, said: "We can see now that the speculative development that we put forward through I10, I11, I9 has paid dividends.
"We took that risk, we knew there was some kind of market there. But the only way we were going to prove it was by investing ourselves, and so the authority did that. With the private sector following on the back of the public sector investment into the city, it gives us that reassurance that actually we're doing the right thing."
"There are still things that we haven't got, that other places have within the city centre. Residential is key for us – we haven't had any new residential development within city centre of quality for 20+ years, so when you go and try and test the market, there's nothing to baseline it against."
Mike Palin, executive director of markets, partners and places at Homes England, said: "In a place like Wolverhampton, and we've seen this on the housing work we've been doing, is you can feel the latent demand, but there's no actual development that proves that the value can be achieved.
"The system means if we can't prove it, we can't commit to it. Whereas we know the university is there, we know there's a high retention of students, and so you can see how there's an escalator that will allow more and more people to want to live there.
"Values will be achieved, and therefore the market will crowd in as a result."
Palin is enthusiastic about Wolverhampton's offer and its ability to deliver on its plans, which is critical to Homes England's own goal of maximising the impact of its interventions.
"You have to have the vision and the leadership and then you have the ability to align resources behind that," he said. "We need the confidence that the decisions will be followed through on.
"Wolverhampton has been clear about is this is the prospectus, this is what we're going to do everything is aligned to make it happen. And that gives us the confidence to work with the city to say 'okay, we can bring our capacity and capability and ultimately our funds to the table'. We know delivery will occur as a result."
Chris Jones, from Interchange developer ION Developments, is excited by the next phases for the city centre.
"The next phase for us is likely to be I8, a 100,000 sq ft development with a really strong emphasis on sustainability," he said.
"On the same site we will look to develop a 150+ bed hotel, which has long been an aspiration for the city, and there is definite demand for a high-quality hotel."
Panel host Jessica Bowles, director of strategy at Bruntwood, added: "It is a really transformed area. I think, as you start seeing the pieces join up, this is really exciting and that properly integrated transport hub just unlocked that area so brilliantly."
Maggie Grogan from Muse is attracted to working with "local authorities who are ambitious, who will look to the future and take calculated risks".
She said: "At the minute, we are all working in challenging environments, and unless you can come together collaboratively and in partnership, you won't ever get to those end goals."
"Wolverhampton is a city that has got real potential. You look at how it's changed over the years, but I don't think it's realised its full potential yet."