Young people look to the future at MIPIM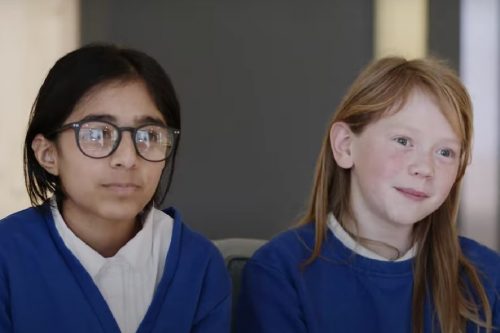 A special film commissioned by NOMA, capturing the hopes, expectations, and dreams of a group of young Mancunians imagining the world of work in 2033 was premiered today at the global property event MIPIM in Cannes, France.
The film, featuring 25 young people from St James' Primary School, in Rusholme, Manchester, opened a panel discussion about future-facing and future-proofing investment.
Dan Hyde, development director for MEPC at NOMA, said: "Hearing from the young people about how they think they will interact with their city when they start work was fascinating and instructive. While we expected a few 'out there' ideas like teleportation hubs and robots delivering snacks to workers throughout the day, it was great to see how important being part of a supportive, kind, and collaborative community in the office was to them.
"It was clear from the pupils that sustainability, health, and wellness are now essential and expected too.
"Given Manchester's MIPIM 2023 theme is 'Generation Manchester', we thought it was only right to hear from the people who, in 10-15 years' time will be working in the city and playing a part in its future success."
Dan added: "As we prepare to complete 4 Angel Square – our pioneering new flagship office building – we've naturally spent a lot of time thinking about the future needs of our occupiers, which is why the design of the space is so flexible and user friendly, complementing our commitment to sustainability."