Renowned chef out to make crowdfunding splash with Wreckfish Bistro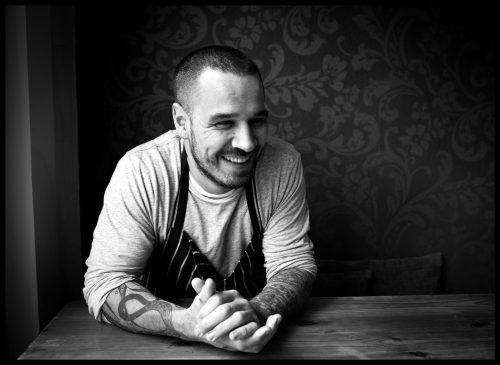 Chef Gary Usher is aiming for a record crowdfunding goal to finance his new Liverpool restaurant Wreckfish Bistro.
The campaign, launched on donation website Kickstarter last weekend, has already reached more than £44,000 of the £200,000 goal set.
Usher actually holds the current record for money raised for a UK restaurant through the online platform due to the £100,000 which helped him create Wirral bistro Burnt Truffle in 2015.
However, speaking to TheBusinessDesk the chef revealed his worries about the campaign, specifically citing the success of his previous ventures and fears that it would be difficult to drum up similar amounts of interest.
He said about his initial Burnt Truffle funding: "Everything from the industry attention to the media attention to local attention was huge.
"We had everybody from Nathan Outlaw to the local fishmonger putting money in. It was big news so a lot of people got behind it.
"When we did the second one we again raised £25,000 in the first 24 hours, so it's hard to say that the second one wasn't successful because it was, but the attention was less for sure."
Following on from that the restaurant proprietor claimed it will be very tough to attract enough attention in this campaign to reach the new goal and, if the money is not fully raised then it is all returned to pledgers.
He added: "There's no reason that it would work or should work, but we'll have a good crack at it."
Usher said that he has been forced to finance his restaurants in this way is because the banks are hesitant to offer him anything.
On previous occasions, he was able to secure funding from banks after successful Kickstarter campaigns and he hopes this will be the case again.
He said: "I am sure that if we did succeed when I go to the bank and say: 'You don't believe in me but I've just raised £200,000'. Like the last one hopefully they'll say yes."
Usher explained that he had previously worked just across the street from the new site and liked the area but that he had not been actively looking in that part of Liverpool.
He said: "I'm not one for doing market research and sitting there counting footfall.
"Somebody called me up and said there was an amazing building. So I drove to Liverpool had a look and loved it. I just loved the building, fell in love with the site and I think we can make it work."
Those who donate at certain tiers will be given rewards, these are mostly meals but also include branded aprons and an invitation to pop-up restaurants which Usher will be organising in Liverpool.
The name of the restaurant, Wreckfish Bistro, is a nickname for Stonebass, a variant of Seabass which is often used in cooking.
The unusual name joins a list with Burnt Truffle, Usher's initial bistro Sticky Walnut and the Didsbury-based Hispi, named after a type of cabbage.
Hispi was also crowdfunded on Kickstarter and the project was able to raise £60,000 in pledges, almost 20% more than the original target.
The website is a popular way of raising money for projects and boasts numerous other success stories including films, video games and, famously, the Pebble Time smartwatch, which raised $1m in less than an hour in 2015.
The campaigns have also been very popular on twitter where Usher and his restaurants are active and have a large following.