Solicitor trades corporate success for community triumph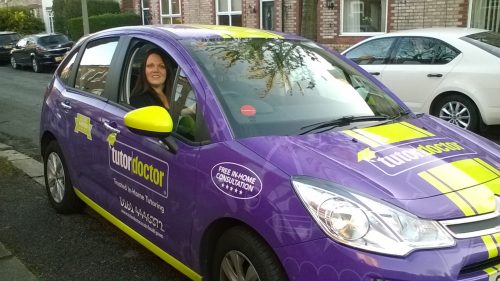 Determined to achieve a better work-life balance, former solicitor Jenny Stevenson has done what many of us can only dream of.
She's traded in a successful but high-pressured law career to launch her own community-focused business in the Stockport, Greater Manchester suburb of Heald Green – Tutor Doctor.
Didsbury born and bred, 41-year-old Jenny is passionate about helping the children in her local communities.
After just four months, she's already making a profound impact; working with over 20 families and enjoying the sense of pride and satisfaction she always dreamed of.
She said: "I was born and brought up in East Didsbury and went to primary and secondary school there. Mum and dad still live in the house I grew up in.  I have so many connections to the area and my friends have families here, I just knew that if I was going to start a business, it would be one that made a difference here, at home."
After qualifying as a solicitor in 2000, Jenny spent the next 16 years climbing the ranks before becoming an associate in the last law firm where she worked. However, in 2016, with decreasing levels of job satisfaction and a feeling of wanting 'more' from life, she decided it was time for a serious change.
She went on: "The main thing for me was that I wanted a better work life balance. I wanted to do, and build, something for myself and have a better lifestyle.
"I was looking for more flexibility and control over my own time. Also, I was tired of conflict. No matter what the case or the situation, in law, naturally, there's always an opposition.
"I was becoming less and less happy with my job and felt a need to do something that I felt was truly worthwhile."
Both of Jenny's parents and her God parents were all teachers so it's no surprise that she was drawn to the education sector:
She said: "When I was growing up, I always wanted to be a teacher but never went down that route. With my background, I feel truly passionate about the importance of a good education and all the opportunities it can bring. I saw starting Tutor Doctor was a way to build something for myself, all whilst tapping into something I genuinely care about!
Jenny launched Tutor Doctor in January. Designed to help children to grow in confidence and ability, Jenny thoroughly assesses a child's needs and then carefully selects the best-fit tutor based on goals, personality and learning level. Tutors visit students at home, at a time to suit them.
Her passion and commitment to helping the children of Heald Green and the surrounding areas has seen Jenny's business flourish – not to mention providing regular work to the 15 local tutors she's recruited to date. And so, with her ambitions firmly intact, she's decided to take things up a gear and is aiming for the stars.
She continued: "There's an ever-increasing demand for what we do because our service has a clear impact on people's lives.
"I see no reason why Tutor Doctor can't become a household name in the region… watch this space. I have a real sense of pride and personal satisfaction. This really matters doesn't it? It really makes a difference and I think that's what's been missing for me."
When she's not building her new empire, Jenny's second love is travel. Her enviable trips have seen her reach the top of Kilimanjaro and visit a whopping 35 countries to date.
After ticking off Bangladesh and North Vietnam only last year, she has plans to make the most of her new work/life balance and is already planning future adventures.
Closer to home, Jenny is a very active member of her community and is a much-loved Brownie leader for a local troupe (but she says we're not allowed to call her Brown Owl!)
So, what's the best thing about her new business? Jenny said: "Working in the community means the world to me.
"Growing up here, I have a lot of love and pride for the region and it makes you feel great to be making a difference at home. I've been able to really help local families and local children.
"Schools are doing a great job but they are under pressure and we can take up the slack and help support students, families and schools. As a local lass, that means a lot to me."