£440K investment boosts School Lettings Solutions' expansion plans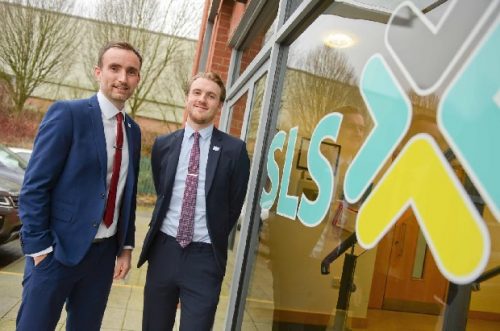 A business which leases school facilities to community groups during non-school hours has secured a £440,000 investment to support its expansion while safeguarding 55 jobs.
The Greater Manchester Loan Fund (GMLF) has made the investment in School Lettings Solutions (SLS), which offers schools, academies and colleges management services for hiring out their facilities to the local community during evenings, weekends and school holidays.
The funding package will support SLS's continued expansion into new schools across the UK, enable the business to meet the demand of its sales pipeline and develop a proprietary facilities booking system.
The investment will safeguard around 55 jobs with an anticipated additional 10-20 roles to be created over the next two years.
Founded in 2012 by directors Scott Warrington and Paul Andrews, Bolton-based SLS manages the process that enables schools and colleges to generate income from hiring out facilities such as sports halls, playing fields and swimming pools to communities, providing access to education and leisure facilities.
SLS currently manages lettings on behalf of more than 125 individual schools and facility owners and says it has a strong new business pipeline and is in discussions with over 100 additional schools to bring them on board.
Warrington said: "The time and effort required for schools to manage the letting of their facilities to community and sports groups is often something they do not possess which means they are potentially missing out on valuable additional income streams and community groups are unable to benefit from their facilities. We are delighted for the support from the GMLF – the loan will enable us to secure and create additional jobs at the firm, fulfil our strong sales pipeline and make an important investment in the development of our proprietary software for the benefit of all our customers and users."
Mike Blackburn, chair of the Greater Manchester Local Enterprise Partnership, said: "Greater Manchester Local Enterprise Partnership is delighted to support the growth of School Lettings Solutions, particularly given its work which brings the educational sector and local communities together. All local businesses with potential for growth should contact the Greater Manchester Loan Fund to find out how it can help them to realise their business goals."
Alex Rothwell, investment manager at Maven Capital Partners, which manages the fund, added: "We are thrilled the GMLF loan for SLS will not only safeguard local jobs but will create additional roles over the next two years. SLS is led by experienced, talented and driven individuals who we are confident will take the business forward and broaden its footprint nationwide benefitting the local communities in which it operates. It is an attractive investment proposition and the development of the bespoke software will enable the firm to continue to grow and reinforce its position as a market leader."
Corporate Finance support to the company was provided by Jerry Scriven and James Curtis at MC Vanguard Corporate Finance.