Non-OEM shaking up the auto parts market pushes to triple turnover

X

Register for free to receive latest news stories direct to your inbox
Register
The latest in our Northern Growth Accelerator series of interviews, in partnership with EY, profiling exciting, fast-growth businesses from across the North.
Entrepreneur Mark Luby set up European Braking Systems in 2000, after spotting the opportunity to sell his own brand manufactured truck parts in an industry dominated by original equipment manufacturers.
His approach was virtually unheard of at the time but today EBS is the largest
wholesaler and distributor of airbrake and vehicle control components across the UK and Ireland.
Based in Trafford Park, EBS employs 58 people, with a turnover of £18.5m and remains the largest part of the wider Luby Group, established as Mark made several acquisitions along the journey, including distribution centres in London and Dublin. The group as a whole employs 105 staff, with pre-tax profits of £5.6m on a turnover of £22.5m in its last financial year.
Mark left school at 16 to work for a company specialising in truck brake systems. He worked his way up to be a sales manager by the time he left aged 33 to set up the venture.
Luby said: "When I started the only option in the parts industry was to buy original or remanufactured parts. But then the Far Eastern and other markets were opening up and new parts started to become available as alternatives to the originals.
"The cost of new parts were competitive but lacked consistent quality and we saw an opportunity to get involved in that and develop a range of new parts with the quality required for our market.
So Luby used a £30,000 loan he had taken out to build a conservatory, along with another £30,000 from his then co-founder, and they set up their own business offering a lower cost alternative for the customer.
"We stopped the use of the words genuine and copy generally used in the market at that time and instead introduced our own brand. So, you could buy an original manufacturer part for £250 from a supplier, or an EBS branded part for £125. It's just about giving the customer a choice – various factors affect each customer's choice."
After the 2008 economic downturn, sales of EBS parts soared 30% in a year, as people looked to fix up, rather than buy new, and also looked for the most cost-effective option.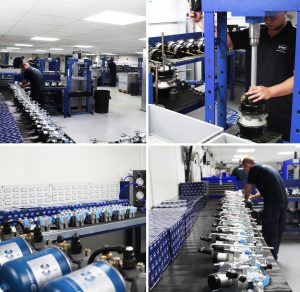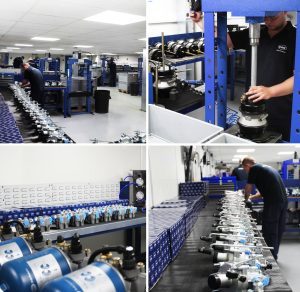 However, the rising popularity of alternative branded products unsurprisingly alarmed the original equipment manufacturers and they did what they could to stop the rise in demand – since then some have even introduced their own alternative brands.
"At the end of the day braking is about safety and that is a powerful message," added Luby. "Now we are progressing as a brand and I'd say we are perceived as being in the middle of the market."
That came down to being able to prove product quality and safety testing. In 2009/10 EBS opened a testing centre in Shanghai, which all products passed through before being shipped.
At that time the company had a turnover of around £7m and 25% of the products sold were own branded – today that has risen to more than 50%.
"The testing centre was an expensive investment, but has proved to be a sound one," said Mark.
"The biggest problem with sourcing and manufacturing in the Far East is consistency of quality and experience. If something was not right we would send it back and then the cost to the manufacturer was massive. Having that approach ensured the manufacturer always sent us the best quality. We also worked with the manufacturers to make technical changes and suggestions through our engineers."
The group has made several acquisitions – in 2012 it bought a Dublin-based business called API (Assured Performance Ireland), a distributor in the turbo charger aftermarket, and in 2015 it acquired Assured Performance in Blackburn – a remanufacturer of Brake components since 1972 – out of liquidation, saving 25 jobs.
The latest acquisition in April 2017 was of Drakefield Ltd, based in London, which gives the business on the ground distribution capability in the south. It is also a specialist in diagnostics, further adding to the group's capabilities.
The company also has a 50/50 JV in Changzhou, China, so it now has the capability to manufacture commercial brake callipers, but with assembly and final testing done at the Blackburn site.
Shortlisted in the 'International' category for last year's EY Entrepreneur of the Year awards, around 60% of turnover comes from overseas sales and it is in untapped international markets that Mark sees the opportunity for real growth.
"We deal with every territory in the world but less than a third of the countries in the world," Luby said, adding that he now has a model blueprint in place ready to be replicated across different countries.
Targeting a group turnover of £70m in five years' time through organic growth and acquisition, Luby has recently taken investment from the Business Growth Fund (BGF) which has a minority stake in the business.
BGF is giving Mark the advice and support he feels he needs to help get the business "to the next level" including introducing him to Mike Molesworth, chairman and former chief executive of dustcart manufacturer Dennis Eagle, who has become chairman of the group.
"We are now looking to expand and enhance our top management team at group level and recruit the people we will need to get us where want to go," he added.
The company has already taken on a new 3,500 sq m manufacturing and quality control centre next to its current site at Trafford Park, which once fully operational by the end of March will double production capacity.
Despite the BGF investment, Luby is certainly not ready to exit any time soon. He said: "It is the adrenaline that keeps me going and the excitement of growing something. I want to stay with the business, enjoy seeing it develop and reach the next level."