People on the Move: The Market Creative; Sigma; Morris & Spottiswood; FW Capital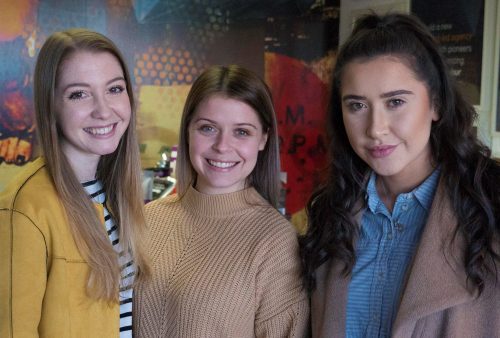 Trafford Park, Manchester-based The Market Creative has strengthened its team with the appointment of three new members of staff.
Creative copywriter Melissa McPhillips has joined the team from AO.com to extend the company's content proposition. She will work as part of the creative team on a range of home interest as well as business-to-business brands.
McPhillips will work alongside new starter and art worker Katie Jackson. Jackson has five years industry experience, holding a previous role with Marlin Digital Imaging.
The Market Creative's account handling team has also been given a boost with the appointment of Lexy Woolley as an account manager.
Woolley joins the team from N20 where she worked on instore events as well as brand awareness for Poundland and ACDOCO.
Sue Benson, managing director at The Market Creative said: "Our clients are increasingly asking for more creative content, so we've invested in enhancing our skills in this area as well as on additional support for our account management team. All of the new starters have worked on interesting and high profile brands, so it's great to have some fresh experiences and ideas."
The Market Creative employs 20 people at its offices in Trafford Park.
::
User experience (UX) agency Sigma has appointed Rachel O'Sullivan as a new project manager at its Macclesfield office.
Prior to joining Sigma, O'Sullivan was a project manager at Reason Digital – an agency that works largely with charities and not-for-profit organisations – where she gained four years' experience in a range of project delivery methods.
O'Sullivan has a proven track record of successfully delivering projects for a number of high profile organisations and at Sigma she will be responsible for managing projects for some of its key clients, which include mental health charity Mind, Diversity Role Models and global transport company, Alexander Dennis.
She said: "This is a really exciting time to be joining Sigma, during a time a growth and when the company is involved in such interesting projects. I have a passion for all things digital and am looking forward to developing new skills and growing into my role."
Hilary Stevenson, managing director of Sigma, said: "Rachel's enthusiasm and willingness to learn made her stand out from the crowd in her interview and we are certain she will bring a set of fresh eyes to our ongoing work in the accessibility market."
:
Warrington fit-out firm Morris & Spottiswood has appointed Viv Sutherland as new strategic development director to help deliver an ambitious 10-year growth plan.
Morris & Spottiswood's turnover is around £90m with a workforce of 390 people. It has four separate service divisions – fit-out, housing, mechanical and electrical and maintenance.
It works across many areas including education, retail, financial, housing, leisure, health and commercial sectors.
Sutherland will be responsible for driving a long-term strategy to expand the firm's client base with a focus on corporate sectors and national framework agreements.
She brings a broad range of experience across marketing, sales, business development, commercial positioning and operations roles for firms including Hewlett Packard, Scottish Widows, Lloyds TSB and Matalan.
Morris & Spottiswood chief executive officer Jon Dunwell said the appointment comes at a pivotal moment for the firm with turnover projected to break the £100m barrier for the first time in the next 12 months.
Dunwell said: "The introduction of a new strategic development director is an important step forward as we look to build on strong performance over the last two years.
"Viv will help map out our strategy and business development agenda. We have identified major opportunities in our framework client base and through geographical expansion which we are keen to capitalise on."
Sutherland said: "I have followed the firm closely for a number of years.
"It benefits from a strong market reputation in fit-out and housing especially which is underpinned by steady and consistent growth over decades."
The company is perfectly positioned to ramp up activity on national frameworks and can penetrate the English regions with greater force through a local office network in Warrington and Leeds. This is a special and unique opportunity and I greatly look forward to working with the Morris & Spottiswood board and team."
::
A fund management firm which is actively looking to provide development capital to ambitious businesses across Cumbria has strengthened its team in the county.
FW Capital has brought in experienced investment executive Peter Capper to help identify firms across South Cumbria that could benefit from the Northern Powerhouse Investment Fund (NPIF).
FW Capital is responsible for managing £102m of Northern Powerhouse Debt Finance Funds with a focus in the North West, Tees Valley and Cumbria.
NPIF – FW Capital Debt Finance can provide loans and mezzanine investments of between £100,000 and £750,000 which are available to eligible small and medium-sized firms that can demonstrate growth potential.
Capper is the newest member of FW Capital's 25-strong team across the North West, with his role being to focus primarily on, Barrow, Millom and the South Lakes area.
He has spent most of his 40-year career in the North West banking sector, most recently looking after the business needs of a portfolio of SMEs across Lancashire and Cumbria for Santander, and has extensive experience of working with growing companies at every stage of their development.
Capper will work out of FW Capital's Penrith offices and will also be based at the offices of Furness Economic Development Forum.
He will be spending much of his time out and about, developing new relationships with businesses across South Cumbria and helping them put everything in place they need to become "investment ready."
Capper said: "The region I'm covering has an enviable industrial heritage and there's a huge range of expertise, capabilities and opportunities here on which we're looking to build.
"Companies outside the UK's major cities are often at a disadvantage when it comes to tendering for major supply chain contracts, and the capital we have available can help them compete on a more level playing field by enabling them bring in the resources, accreditations and expertise they need to do so."
Gary Guest, fund manager at FW Capital, added: "Peter brings a wealth of lending experience to our North West team, as well as a detailed knowledge of the regional economy that will be invaluable in helping to identify and support firms in which we might be able to invest.
"NPIF – FW Capital Debt Finance is designed to facilitate growth and create jobs across North West England, and we're excited at the commercial potential that it will help to unlock in the years to come."