Build to rent firm has designs on success with celebrity interiors specialist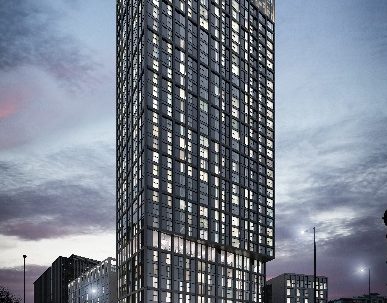 Build to rent specialist Moda has joined forces with celebrity interior designer Naomi Cleaver for its flagship site Angel Gardens in Manchester.
Comprising 466 rental apartments in a 35 storey tower, Angel Gardens is based in the Manchester's newest £800m district, NOMA.
The 520,000 sq ft neighbourhood will offer outdoor private dining, residents cinema, health and wellbeing space, games rooms and an executive car club when it opens in early 2019.
Cleaver's career includes TV appearances with Channel 4's Grand Designs, authoring 'The Joy of Home' and regularly writing for national publications such as The Daily Telegraph.
She said: "Angel Gardens is a building of scale so I'm looking forward to applying the opportunities therein to create an intimate and rich experience of home.
"Angel Gardens is a site dense with inspiration – built on the location of Richard Arkwright's Shudehill Mill – Manchester's first mill to be powered by steam. The interior will take inspiration from this history, from the majestic scale and orchestra of industry to the spider-web delicacy of cotton."
The partnership is one of the latest initiatives from Moda.
Earlier this year Moda announced a UK first collaboration with UBER to encourage reductions in car ownership among residents and a lower environmental impact on city centres.
Moda director, Oscar Brooks, said: "Naomi presented a brilliant vision for how she felt Angel Gardens should look, live and breathe as a functioning environment. It completely aligned with the Moda objectives to provide the very best, long-term rental properties that will create a way of living never seen before, yet taking inspiration from each city's story and history."