Sci-Tech Daresbury enjoys another strong year of growth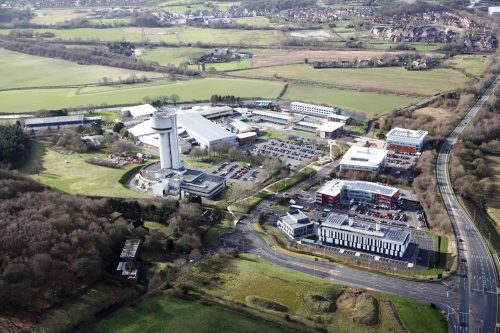 Sci-Tech Daresbury in Cheshire has marked another year of significant growth, having welcomed 30 new companies to the world class campus during 2017.
It means that the campus is now home to 132 companies, with a strong pipeline of new enquiries already being received for 2018.
Aiming to build on this success and attract more cutting-edge companies to Liverpool City Region, Sci-Tech Daresbury's joint venture partners recently submitted a planning application for the speculative development of a new 42,000 sq ft grade A office complex.
The proposed scheme, codenamed Project Violet, will see the construction of three new buildings situated at the gateway of the campus.
John Downes, group managing director of Langtree and board member of the Sci-Tech Daresbury joint venture company, said: "Sci-Tech Daresbury is continuing to see strong appetite for its office and laboratory space and in the last 12 months we have experienced another significant period of growth, following a record breaking 2016.
"Our culture of collaboration, scientific expertise and the world-class technical facilities of the Science and Technology Facilities Council's Daresbury Laboratory all create a unique space for companies to base their operations.
"The campus is designed to foster collaboration and innovation between local and international businesses, academic institutions and public sector – connecting ideas, networks and knowledge together. We are not resting on our laurels though and are looking for even more success in the year ahead. We have a bold vision for the campus and this means expanding our offer with Project Violet being a key part of that."
The Innovation Centre welcomed 19 new tenants in 2017: ACE UK, Active Data Metrics, Astute Licensing, AWOL Adventure, Blinx Solutions, BluCap, Chart Capture, Concert Care, Delphisonic, Device Trust, Department of International Trade, Just-R Limited, Magnify Solutions, Mere Digital, Outdoor Product Design, QMS Consultancy, Secure Digitali, SGM Projects, Structural Surveys.
Other highlights in 2017 include Prime Minister Theresa May holding her first regional cabinet meeting at the campus where she launched proposals for a new Industrial Strategy; the visit of HRH Prince Andrew for the official opening of the new Hartree Centre building, a high performance computing and data analytics research facility; and receiving major recognition at the prestigious UK Science Park Association (UKSPA) member awards as the science campus making the most significant contribution to innovation in the UK.
Sci-Tech Daresbury is a private-public joint-venture partnership between developer Langtree, the Science and Technology Facilities Council (STFC) and Halton Borough Council.