£17.4m regeneration plan for Toxteth's Welsh Streets unveiled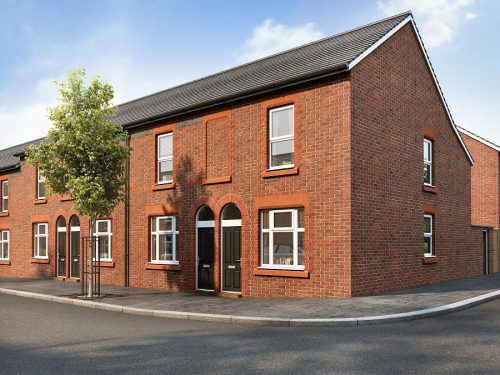 Plans for the £17.4m regeneration of Welsh Streets in Liverpool's Toxteth area have been announced by Plus Dane Housing and the city council.
The plans include the extensive remodelling and refurbishment of 127 properties, many of which have lay empty for a number of years, to create 99 affordable homes.
Plus Dane is currently nearing the end of a pilot of six homes on Gwydir Street which is due for completion in June, and work will now begin on the much bigger scheme of 93 properties next week following recent approval for the plans from Liverpool City Council with funding from Homes England.
Barbara Spicer, chief executive of Plus Dane Housing said: "Our involvement in the Welsh Streets spans decades.
"Following lots of disappointments for our tenants and other people living there, we have remained committed and determined to support the much-needed improvement of the area."
Plus Dane tenants currently living in Welsh Streets will move out whilst the work takes place, but can return to a newly refurbished home if they want to remain in the area.
While the works will be undertaken on a rolling programme, it is expected that the transformation of the Welsh Streets will complete in 2021.
Plus Dane Housing will contribute over £10m towards the project, with the HCA and Liverpool City Council contributing £4m and £1.7m respectively.
Liverpool City Council and Plus Dane are also seeking to include home owners in the area so they can benefit from the initiative.
Cllr Frank Hont, cabinet member for housing at Liverpool City Council, said: "The regeneration of the Welsh Streets is a great example of how the city council is working with numerous housing partners, like Plus Dane, to bring vacant properties back into use. In the past four years alone we've managed to convert 1,500 vacant units into homes and aim to breathe new life into 3,000 more over the next four years."
Karl Tupling, general manager at Homes England added: "The pilot work by our partners Plus Dane and Liverpool City Council shows how our investment of up to £4m will make a very real change for local people by providing them with homes that are designed for modern living."
The Welsh Streets consist of traditional small Victorian terraces, with limited outdoor space and downstairs bathrooms.
A significant amount of work is needed to ensure that when complete, the homes are fit for modern living so achieving this will involve; in some instances knocking two properties into one, moving bathrooms upstairs, creating larger kitchen space, improving outdoor space and upgrading all major internal items such as kitchens and bathrooms.
The current terraces will be replaced with a mix of two, three and four-bedroom homes that are warm and secure.
The all-encompassing programme of improvements includes; addressing structural defects such as subsidence and removing outriggers, new damp proof courses, replacing timber floors with insulated concrete floors, external wall insulation, new roofs, re-wiring, new heating systems, new windows and, new kitchens and bathrooms.