Sensor City to open its doors as part of LightNight events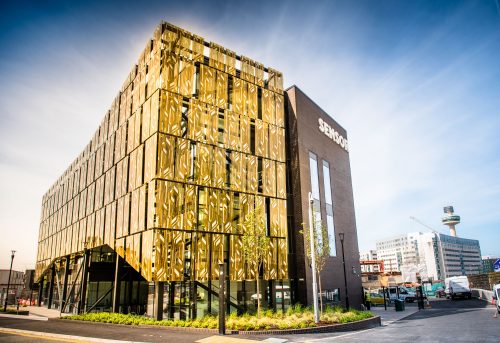 Sensor City, the Liverpool-based global innovation hub, will open its doors to the public on Friday, May 18, as part of the city's much-loved arts and culture festival, LightNight.
The joint venture between Liverpool John Moores University (LJMU) and the University of Liverpool will host a programme of special events to showcase its state-of-the art facilities and give the local community an opportunity to see what goes on behind the building's gold façade.
Sensor City, which enables businesses to explore and develop sensor technologies, is welcoming visitors to experience its in-house capabilities first-hand, such as virtual reality and 3D printing equipment, lab facilities, high quality office suites, and rooftop event space.
LightNight attendees will get the chance to hear directly from tenants that have developed exciting concepts into prototypes by collaborating with Sensor City.
Visitors will also be able to see the latest technological innovations that its engineering team, university partners and SME community are developing.
Sensor City will bring to life technological transformation – the theme of this year's LightNight event – throughout the evening in the form of visual, interactive and hands-on displays involving digital apps, drones, and 3D printed models.
Guests from across the city will also have the opportunity to participate in sensor-based games, watch live dance and theatrical performances, and enjoy a drink on the building's panoramic roof terrace.
Joanne Phoenix, business development director at Sensor City, said: "In order to support more businesses across the Liverpool City Region and beyond we need to raise awareness about the technology, facilities, and business support we offer, and a much-loved festival like LightNight is the perfect opportunity to do this.
"We are very excited to be involved in the event and it's fantastic to be able to give the local community the opportunity to come and see our in-house capabilities and find out exactly how we are supporting SMEs across the region."
Sensor City is located at the gateway to the city's Knowledge Quarter and is one of five new venues opening especially for LightNight.
More than 100 free performances, exhibitions, installations, workshops, and talks will be happening across the city on LightNight, celebrating Liverpool's world-class cultural offering.
LightNight Liverpool is the city's annual "culture crawl" which sees art galleries, museums and venues open their doors until late across the city, celebrating its world-class cultural offer.
With hundreds of free events, exhibitions, performances, installations, talks and much more, thousands take to the streets from the waterfront to the Baltic Triangle, Knowledge Quarter and Ropewalks in the spectacular event from producers Open Culture.
The full programme will be released on May 1, and is available to pre-order now at www.lightnightliverpool.co.uk