Top designer leads creative workshop to redesign Croxteth estate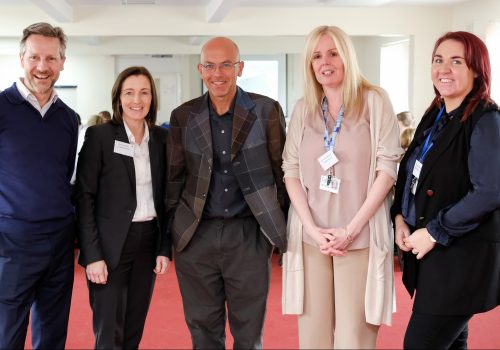 Design guru and Red or Dead co-founder Wayne Hemingway was in Liverpool this week leading a workshop for the future transformation of Stonedale Crescent in Croxteth.
The designer's globally-acclaimed company, Hemingway Design, was chosen by Gillespies, Cobalt Housing's appointed masterplanners, as a leading partner for the regeneration of the estate, off the East Lancs Road.
Hemingway is leading the co-design process, consulting with residents and organisations to envision the future look and layout of the estate.
At the session he talked about Liverpool's growing reputation as an exciting and vibrant city, praising initiatives like the Baltic Quarter and Turner Prize award-winning Granby 4 Streets in Toxteth.
This vibrancy, he said, could also be brought to the North end of Liverpool, with residents playing a key part in its transformation.
Plans for Stonedale include improved street layouts, green spaces and the construction of new energy-efficient homes on neighbouring land.
Pauline Allen, community regeneration manager at Cobalt Housing, said: "Wayne was fantastic. His energy and enthusiasm created a real buzz and he really encouraged the community to take ownership and be creative and ambitious with their ideas.
"This was an important opportunity to bring partners and the community together and build consensus.
"We're working hard with residents and partners to bring opportunity to the area and transform it into a safer, well-connected and thriving community.
"Wayne's involvement was invaluable and it's wonderful to see residents so inspired about the future of their community."
The meeting was one of a series of consultations with residents and partners which will run throughout the design process.
More drop-in sessions with residents will be held in May, with the masterplan expected to be published in August.