Wrestling fan turns his passion into a business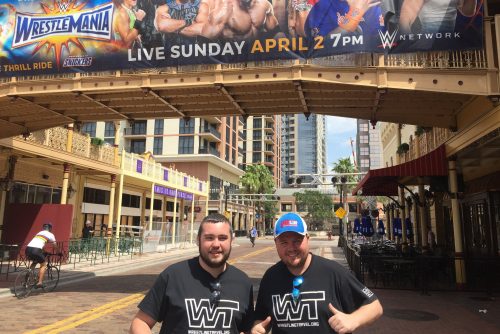 Wrestling superfan and serial entrepreneur Lee McAteer is grappling for a piece of the billion-dollar WWE pie after launching a wrestling travel company – the first of its kind in the UK.
Wirral-born Mr McAteer caught the wrestling bug as a young boy when his parents took him to watch a live match in Manchester where two of the sport's legends, Ric Flair and Bret Hart, battled it out.
WWE has emerged as big business and a social media powerhouse with more than half a billion followers across its accounts – with WWE superstar John Cena among the world's most popular athletes with 45 million followers on Facebook and 11.5M million on Twitter.
Twenty five years later, Mr McAteer, now aged 33, is still as madly in love with wrestling as ever and has now turned his lifelong passion into a booming business.
His Salford-based 'Wrestling Travel' company creates bespoke packages to the world's best wrestling events, including WWE's WrestleMania and Royal Rumble.
Taking inspiration from WWE's founder, Vince McMahon, Mr McAteer wants to capture a slice of the wrestling market which today is a global phenomenon.
Mr McAteer is a serial entrepreneur with around 30 brands and counting under his belt as part of his Invasion Camp Group, which is a mix of summer camp, gap year and tour companies aimed at UK Millennials, turning over £4m in 2017.
He said: "As a huge fan of WWE and professional wrestling, I can put myself in the shoes of the consumer, as I am one.
"Having been to the last four WrestleManias I always ended up buying everything late and struggled for accommodation at a reasonable price and, therefore, the experience always cost me a lot more than it should have.
"I knew there was a gap in the market for it as it was something I wanted myself as a huge fan.
"We now have over 100 people on a waiting list for WrestleMania packages, which is crazy."
Mr McAteer said: "I was a fan of wrestling as a kid and have been hooked ever since. The way I see it is if you love what you do then you never work a day in your life, so combining hobbies and passions into a business is never a bad thing."
Wrestling Travel, which is a member of ABTA and ATOL through Mr McAteer's parent company Invasion, creates complete packages with tickets, accommodation, transport and flights.
Its most sought-after event is WrestleMania which next year takes place in New Orleans in spring 2018.
Mr McAteer said: "Although we concentrate mostly on WWE, we also offer packages for Ring of Honor (ROH), What Culture Pro Wrestling, Insane Championship Wrestling (ICW), Impact Wrestling, New Japan Pro-Wrestling and many more.
"Having been to numerous wrestling events, we understand what is needed in order to have a great time without the hassle of organising every single detail.
"What makes us even more different is that we can arrange just accommodation and transport packages if you already have tickets to your designated wrestling show."
Vince McMahon, who is chairman and chief executive of WWE Inc, is Mr McAteer's business idol.
He said: "Vince McMahon is an innovator – he has never once sat on his laurels and always continues to strive for greatness.
"All other forms of sport and entertainment should be looking at his shows and taking notes on how to implement those ideas.
"In 2016 alone, there were 15.1 billion views of WWE's digital video. Their distribution channels for marketing their products are unparalleled, especially on social media."