People on the move: Grant Thornton; RICS; Borough Care; Vernon Building Society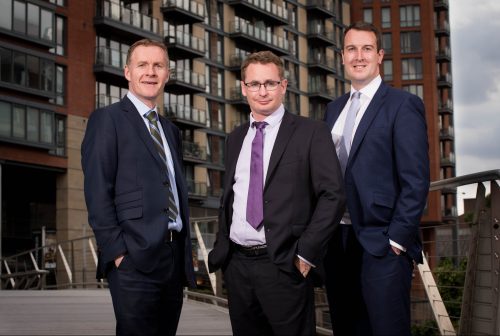 Business adviser Grant Thornton has boosted its 130-strong North West tax team with the appointment of two directors amid surging demand for advice as a result of Brexit, changes in the law and increased regulation.
Sean Mitchell has returned to the firm, which has offices in Manchester, Liverpool, and most recently at Sci-Tech Daresbury, after three years at BDO.
At the same time, science and tech sector specialist David Hawley has been promoted from within.
Partner and North West head of tax, Paul Scully, said: "We have ambitious plans to continue our growth by investing in talent in specialist services such as capital allowances, tax risk and transfer pricing, as well as investment into our core entrepreneurial tax business.
"We are very excited that Sean is coming back into the fold.
"A glorious returner, Sean brings a valuable skill set in terms of private client expertise, deep technical specialism and being very engaging and good with clients.
"David Hawley is one of the rising stars of our firm and plays an important part in our tech and innovation group, advising and supporting knowledge-intensive businesses.
"He is extremely deserving of this promotion and we look forward to the future with confidence."
Sean Mitchell, who spent 17 years with Grant Thornton before his previous move, specialises in advising ambitious family-owned business, entrepreneurs and mid-market firms on UK and international corporate tax matters.
He said: "It's great to be back. The depth and quality of the team here was incredibly compelling.
"It was excellent in my previous tenure but has stepped up further since I was here last, and that was the definite pull factor.
"Mid-market businesses are increasingly looking further afield for growth and they need advisers with broad and deep knowledge and with the ability to respond quickly."
::
Property and development entrepreneur Stephen Ashworth, chairman and CEO of Crystal Hurstwood in Manchester – a privately-owned investment company – has been appointed as the new chairman of the RICS (Royal Institution of Chartered Surveyors) North West regional board.
Less than 20% of surveyors in the UK are Fellows of the RICS – a recognition of a surveyor's significant career achievements and passion for developing the profession across the land, property and construction sectors – and Stephen is one such professional who has achieved the esteemed status for going above and beyond in his role and for the wider profession.
Over the past 20 years Stephen has grown Crystal Hurstwood into a £140m commercial investment and house building group.
Today, the company services more than 600 commercial customers occupying a range of office, industrial, leisure and retail property, and continues to build high quality homes.
Keen to help industry talent develop, Stephen has also established a successful graduate scheme in the business which supports student members in achieving chartered status of RICS. He is also a volunteer mentor for surveyors in senior roles looking to become chartered through the RICS' senior professional assessment.
Stephen replaces Matthew Fedigan, director of Domec Professional Services in Liverpool as chairman of the RICS North West regional board.
His responsibilities will include leading the committee – comprising of 10 chartered surveyors – in delivering a range of objectives and initiatives to set and improve standards across the region's land, property and construction sectors, and encourage more young and diverse talent in to the industry.
Furthermore, as part of RICS' 150th anniversary this year, the board is also responsible for encouraging property firms and professionals in the North West to get behind a campaign, known as Pledge150, which aims to deliver funds for property industry charity, LandAid to deliver at least 150 bed spaces by December 2018, for young people at risk of homelessness.
Stephen said: "Our region's land, property and construction sectors continue to face many challenges.
"But as chairman of the RICS North West regional board, I am looking forward to representing the interests of the region's property professionals, and together with the knowledge and expertise of our experienced board members, deliver a range of initiatives that will have a positive impact on our industry and profession, as well as our local communities."
::
Borough Care has appointed Jayne Hennessey as its new head of human resources.
It is the largest not-for-profit provider of care for older people in Stockport and has 11 homes across the borough.
In her new role Jayne will be responsible for human resources strategic planning.
This will include putting together a plan to link talent mapping and succession planning with continuous improvement.
She will also be in charge of updating programmes in the areas of employee engagement and training, along with rewards and benefits.
Jayne is also keen to increase engagement with the local community, to bolster Borough Care's pool of volunteers.
Jayne said: "I'm looking forward to reviewing Borough Care's current human resources processes and making any necessary improvements, as the company goes through a period of organisational change.
"I was attracted to the role as I believe the care sector for older people is still widely viewed as one that predominately attracts females and historically offers low paid jobs. I am keen to change these perceptions by working with schools, educational institutions and local communities, to highlight the importance of the sector at a time when our aging population continues to increase, and promote the wide range of employment opportunities available."
Dr Mark Ward, chief executive at Borough Care, said: "As we evolve and develop as a company, the role of human resources is critical in ensuring we equip our existing staff with the right skills and attract the best talent.
"I firmly believe in creating long-term careers for people. To do this, we need to continue to develop and support individuals so they feel they can progress within the organisation."
Jayne joins Borough Care from SharpFutures Manchester CIC, a social enterprise that supports young people into employment in the digital creative and tech sectors.
::
The Vernon Building Society in Stockport has strengthened its marketing department with two new employees.
Alexander Deakin is the new marketing manager, while Adam Pemberton joins as a marketing assistant.
Alexander, 23, replaces Nathaniel Harwood and previously worked as an advertising sales account manager for Reach, previously named Trinity Mirror.
He said: "I am very excited and honoured to step into this challenging and fundamental role within The Vernon Building Society.
"The Vernon is renowned for its appreciation and care of its customers, community and employees, and I believe that this will be a brilliant environment for me to work effectively.
"I hope to represent the Vernon brand on its next chapter as we continue to bring innovative products to the market."
Adam, 24, had been teaching English in China and previously worked in telecom and broadband field sales.
He will work on social media strategy and creating content for the Vernon website.
He said: "I am incredibly excited to dive headfirst into this challenging role and have already begun on projects such as the 2018 Vernon Building Society Community Awards.
"It is an honour to represent such a well-respected and renowned building society, and I will work alongside Alex as we bring a fresh, new, view to the Vernon using digital marketing alongside more traditional methods."
The marketing department will continue to be run by director of sales and marketing, Ian Keeling.
The Vernon has six branches across Stockport and Cheshire.