£980k Santander deal enables childcare business to acquire freehold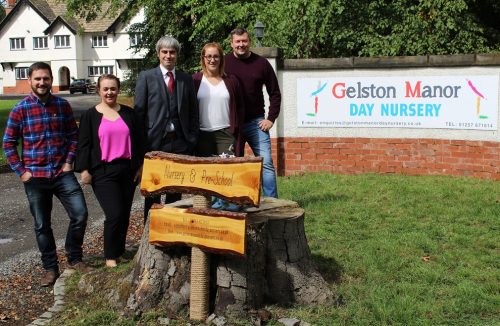 Chorley-based nursery business Buckshaw Bunnies Childcare has acquired the freehold of local Gelston Manor Day Nursery following £980,000 in funding from Santander Business Banking.
Buckshaw Bunnies Childcare was established in 2012 by Laura Ward and Annemarie Capper, who have more than 20 years' experience working in childcare.
In 2014, the business moved to Gelston Manor in Buckshaw Village, near Chorley, in a period home set among three acres of woodland.
Spurred on by strong local demand, the business evolved rapidly into a leading private day nursery for children aged up to five-years-old.
In 2016 the nursery was granted planning permission to expand and thanks to funding by Santander a set of outbuildings were renovated into a new pre-school facility to accommodate more children.
Next step in the expansion plan is to open a before and after school club and term time-only provision, which they are hoping to offer from January 2019.
Supporting the development and growth of children's nurseries has become a key specialism for Santander Business Banking.
The bank supports a large and growing book of sector clients across the UK and has developed specific solutions that can be tailored to individual businesses, depending on size and scope.
Neil Ward, of Buckshaw Bunnies, said: "This is a great outcome for us, our staff, the children and the local community.
"We are very passionate about our business and are looking to expand and grow it even further now that we have been able to secure the freehold.
"The support from Santander has been fantastic and integral to the future success of the business – to the point where we feel that the relationship director at Santander is one of the team."
Chris Green, Santander Business Banking relationship manager, said: "We are absolutely delighted to be able to support this great local business.
"We have been very impressed by the team at Buckshaw Bunnies and their extensive experience in the sector.
"I'm particularly delighted that we have been able to help the directors further by inviting them to attend our Breakthrough events for business leaders, and greatly look forward to supporting them as they enrich and enhance Gelston Manor Day Nursery."