St Modwen completes refurbishment and signs significant letting at Knowsley site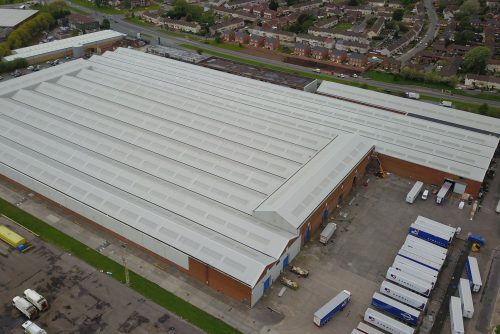 Developer St Modwen has completed a major refurbishment project at Moorgate Point Industrial Estate in Knowsley, and has let 200,000 sq ft of space in a significant deal.
Burhill DCR Logistics will occupy unit 5, agreeing terms on a 10-year lease.
A joint venture company with IDR Steel Logistics, Burhill Logistics is an independent freight forwarding and warehousing company, providing professional logistics services globally for the forestry, food and retail sectors.
The move for the company, which also has premises in Liverpool and Felixstowe, is set to create up to 30 jobs in Knowsley and positions the joint venture as one of the largest independent warehouse companies in the UK.
The refurbishment works reflect a capital investment of £2.3m by St Modwen at Moorgate Point, which has included the refurbishment of the 200,000 sq ft warehouse unit, and repairing 500,000 sq ft of roofs on the industrial and warehouse units on the site.
Paul Brustad, senior asset manager at St Modwen, said: "Moorgate Point is in an excellent location, readily accessible from the motorway network and the port.
"Our significant investment in the buildings, to offer affordable and flexible accommodation, reflects the continuing demand for good value, effective industrial warehouse accommodation to complement the new space being delivered in the regional market.
"It also typifies the ongoing investment we make into our estates throughout the portfolio.
"The last remaining unit and additional office space available at Moorgate Point represents a very exciting opportunity for tenants to occupy space in a newly-refurbished scheme alongside a diverse mix of existing tenants."
Dave Burhill, managing director of Burhill DCR Logistics, said: "St Modwen's premises at Moorgate Point provide a perfect location for us to grow our business, which will create jobs and complement our other sites in Liverpool and Felixstowe."
Moorgate Point is a 30 acre multi-let industrial estate which comprises industrial, office accommodation, including serviced offices, with an additional 6.5 acres of development land.
The site is located off the A580 East Lancashire Road and M57 at the front of Knowsley Industrial Estate.
Rob Taylor, partner at Knight Frank, said: "The industrial market around Merseyside remains buoyant, as demonstrated by this letting.
"Our clients invested a large amount of capital in refurbishing the unit and their investment has reaped the rewards of securing a letting soon after the works completed from an established, Liverpool-based occupier.
"The length of the lease shows the continued commitment by occupiers to the right buildings in the right locations and all parties moved quickly to ensure this deal could happen within some very tight timescales."
Knight Frank and JLL are letting agents on the scheme.