Stockport could set up region's first Mayoral Development Corporation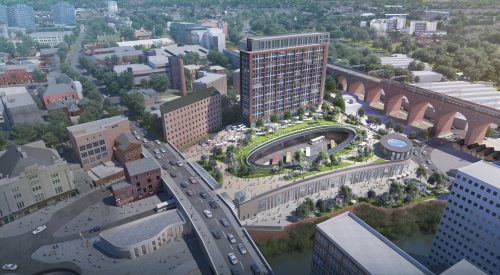 Moves for Stockport to deliver its bold and ambitious town centre living plans are set be given a boost with the proposed establishment of Greater Manchester's first Mayoral Development Corporation (MDC).
Covering 130 acres of brownfield land in the heart of Stockport, the MDC would help accelerate the transformation of this area in the west of the town centre, creating a new urban village of up to 3,000 homes.
In partnership with Greater Manchester Combined Authority (GMCA) – as part of the Mayor's Town Centre Challenge commitment to regenerate town centres across Greater Manchester – the council is working on how the MDC can help drive forward their Town Centre West development.
The proposed MDC will also help to resolve potential barriers to site development, unlock finance for schemes, as well as providing a sustainable framework within which the development could be progressed.
Cllr Kate Butler, Stockport Council's cabinet member for economy and regeneration, said: "We have made a firm commitment to the people of Stockport that we will – as far as possible – build the homes we need on previously developed land.
"This Brownfield First approach is central to our Town Centre West ambitions and the proposed Mayoral Development Corporation.
"The council will be talking to local residents and businesses as the proposals develop as it's vitally important we listen to local views on how we can improve the environment and provide new opportunities to live and work in Stockport."
She added: "We look forward to working with the Mayor and GMCA as we further investigate the option of establishing a MDC."
Stockport is increasingly being seen as an exciting, attractive place to live with new residential developments and improved public spaces.
A lot is happening with developments such as Covent Garden Village and the White Lion on site, and others like the Transport Interchange are also in the pipeline.
Detailed discussions about the proposal will be considered at the September meeting of GMCA with further work to be carried out over the coming months before a final decision is made in December 2018.